Looking for a raucous and laugh filled time at the movies then Rough Night starring Scarlett Johansson, Kate McKinnon, Jillian Bell, Ilana Glazer, and Zoë Kravitz is your summer movie to fill our comedy itch.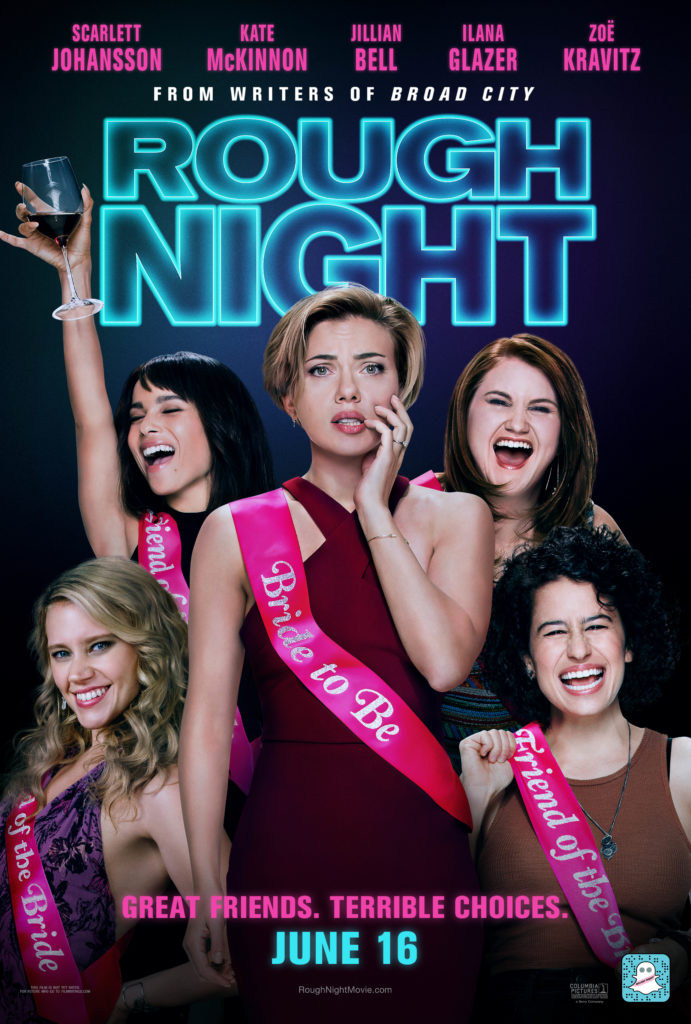 About Rough Night
The movie focuses on college friends ten years after graduation where they all meet in Miami to celebrate Jess' (Scarlett Johansson) upcoming nuptials. During their wild bachelorette party planned by Alice (Jillian Bell), they accidentally cause the death of a male stripper. And let the hijinks begin in this black comedy directed by Lucia Aniello. Kate McKinnon,  Ilana Glazer, and Zoë Kravitz round out the friends.
For your information, Rough Night is the first big-studio R-rated comedy about women to be directed by a woman in nearly 20 years, meaning that Rough Night has a completely unique perspective on the bachelorette party motif.
Comedies are so much are harder to make than dramas. In my opinion it is so much harder to make people laugh than cry in my opinion. I will admit that like so many movies that it will be compared, Bridesmaids and the Hangover, I walked with low expectations because to my earlier point, comedy is hard.
Rough Night more than met my expectations. Seriously think about the premise of this movie, a bachelorette party gone wrong starring  Scarlett Johansson. This is one funny movie from the opening scene until the end. You will laugh, maybe cringe a bit somewhere in the middle but all the women in this movie have their moments.
I have to give a special shout out to who else Kate McKinnon as Pippa/Kiwi. Who better to show up as Jess' Australian friend? She is hilarious as always. Just love her!!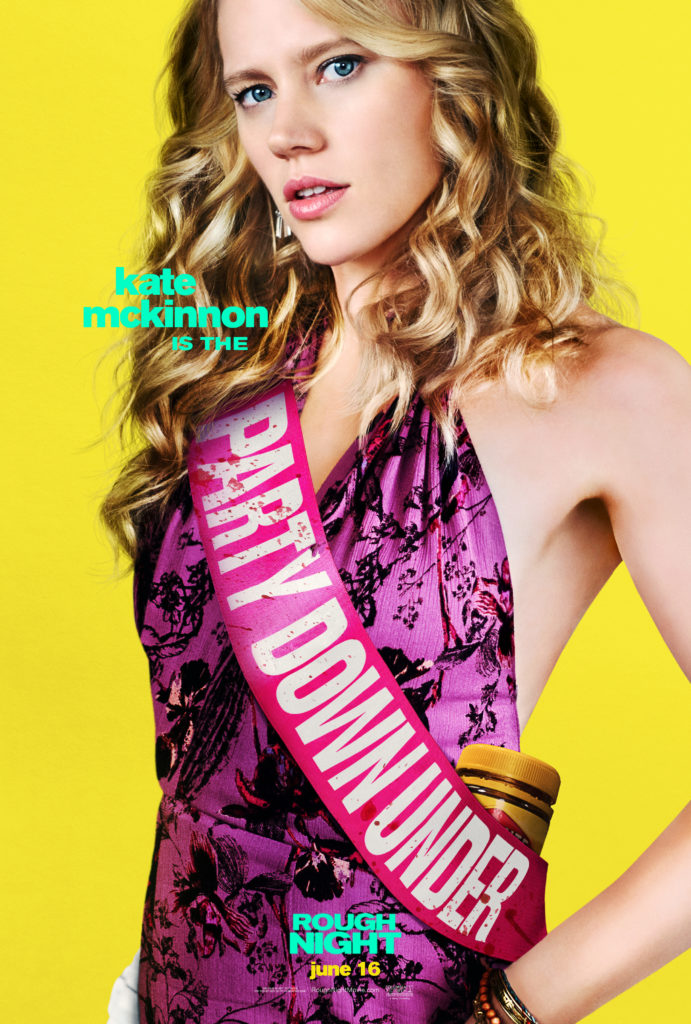 Adding to the wild night of crazy are Ty Burrell and Demi Moore (looking fab as always) as the creepy, sexual adventurous couple next door. And they are like no other couple next door you know but they are hilarious!!
And I would agree with Scarlett Johansson comments that that underlying this wild night of raucous behavior is story about friendship.
"This movie might seem to be about friends who find themselves in a not-so-average bachelorette party through a series of very over-the-top events, but the movie is really about friendship," says Scarlett Johansson, who expresses her comedy chops in Rough Night.  "We often can take for granted the people that know us the best… This movie is a sort of cautionary tale about taking that for granted – and also it's a celebration of that kind of deep friendship.  Underneath this wild, R-rated comedy is a movie with a very warm heart about friendship."
If you are looking for a laugh out loud, I can't believe they did that comedy, you will love this movie. Rated R – this is definitely an R rated movie for a reason as described by the MPAA for crude sexual content, drug use and brief bloody images. And yes to all of the above but again you can overlook it because it is pretty funny.
Rough Night in theaters June 16, 2017
Disclosure: NYC Single Mom was invited to the screening of the movie to facilitate this review.
Save
Save