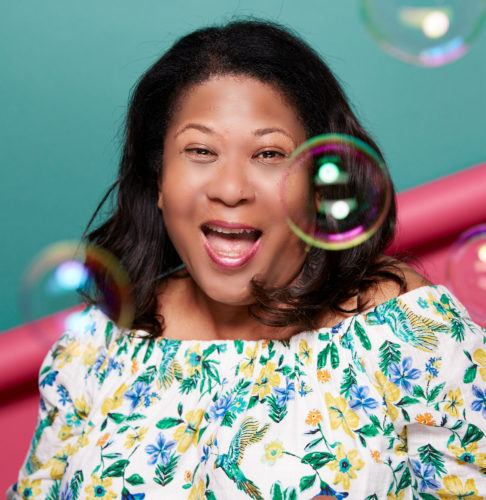 Benvenuti,
Linda Grant is the  Founder and Editor of NYC Single Mom.Com, ™ a lifestyle site that provides moms of all stripes with parenting tips, dining, travel, New York City centric events,  product reviews and giveaways. As a family lifestyle and parenting (especially adoptive parenting) expert, blogger, and brand advocate, Linda shares her in-depth knowledge to provide valuable information and useful products to her readers that will assist them in managing every day dilemmas.
From the title, you can guess that Linda is a single mom by choice (through adoption) of a lively teenage girl.  Since 1996, they have lived in downtown Manhattan where she spends her days navigating the frenetic life in New York City from school, to work to motherhood. While she currently lives in New York, she has been lucky enough to live abroad including Florence, Italy, Japan (where she was born) and Archamp, France (while attending Thunderbird, The Garvin School of International Management) as well as travel extensively throughout Europe and Asia.
Linda wears two hats; during the day she is a marketing executive and by night and the Editor of NYC Single Mom. Linda previously was the Editor for BrooklynMamas.com as well as contributing Kidzvuz.com writer.
Linda is currently writing a book focused on her adoption experience and hopes that one day to become a published author.
Linda has been featured on the Today Show Segment – How 3 Moms Became Successful Bloggers.
And a key digital influencer, she has worked with a multitude of brands including Procter and Gamble (Charmin and Bounty), Disney Entertainment attending Los Angeles press events, Dyson, Omni Hotels and Toronto Tourism Board.
Brand Ambassadorships
She is currently the Brand Ambassador for Hersheypark,  Charmin, Verizon FiOS, Fox Home Entertainment, NetGear and Care Bears. In the past, she has been the Brand Ambassador for Disney Social Media Moms, Fandango Entertainment, Tylenol and many more Fortune 500 companies.
To learn more about partnering with NYC  Single Mom, feel free to  contact her  at nycsinglemom@gmail.com to request a media kit.
Contact Information: Email: nycsinglemom@gmail.com
Save
Save