Middle School without a doubt has  been an adjustment for both my daughter and me. One change I really don't like is that I have no insight into her classmates and certainly not their parents.
In elementary school, I might not have been friends with all the parents but after 5 years of drop offs, pick ups and class events, you pretty much get to know the kids and their parents.
Plus, everyone lives in the neighborhood and everyone knows everyone.
Not so in middle school. The kids are now coming from all over the city and they walk themselves to school so there is nary a glimpse of the parents.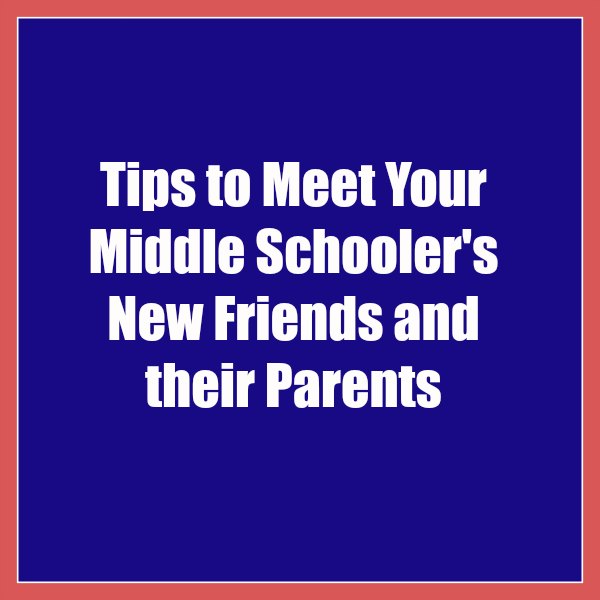 Here are 5 Suggestions to Get To Know Your Child's Middle School Friends and Parent
Have an After School Gathering

Why not invite your child's friend over for a  impromptu after school snack and homework party?  They may not want you to interact with them other than dropping off the food but it's  a low key way of meeting your child's school friends. Of course,  in order to invite the kids you will have to at the minimum communicate with the parents to get permission. Thanks for Rebecca Levey at beccarama.com and kidzvuz.com for her suggestion.

Chaperone a Field Trip 
This may tax one's patience however you get to see the other kids and meet a few parents.

Attend Sports Events
Does your child attend sporting events or play on the school team? My daughter plays on the JV basketball team. I have gone to a couple of games. This is great way to meet the parents of the girls on the team. You may not get more than an introduction to the team but at least you can put names to faces.
Volunteer for School Events
This is more for the parent than the child. I volunteered to chaperone the Valentine's Day dance. This did not go over well with my daughter but who cares. I was able to check out her friends and what really is happening at the party. This was actually important to me because it was a way to check up who from the administration attends the party and how they manage the kids.
Arrange to Meet on the Weekends or After School
I know weekends are nuts for most parents but once in a while, arranging to meet or invite the kids over is great way to interact with the parents if only for the drop off and pick up portion of the play date.
Do Pick Up After School
I have gotten into the habit of my daughter being able to leave after school on her own but I think meeting her every so often is not a bad idea just to check out who is walking home with.
What have you done to meet your middle schooler's friends and their parents?
Disclosure: NYC Single Mom was not compensated for this post.