6 Delicious and Mouthwatering Barbecue Recipes

Looking for a way to spice up your barbecuing and grilling this summer, then add Stubb's Barbecue Sauce, Rubs and Marinades to your grocery list to make your favorite barbecue recipes. Stubb's sauces, marinades and rubs are a great way to add flavor to all kinds of grilled meats and vegetables for all your holiday cookouts. And what makes Stubb's authentic sauces, rubs and marinades get their bold flavors from real ingredients, with no artificial flavors, colors or sweeteners, and contain no high fructose corn syrup, the No. 1 ingredient in most national BBQ sauce brands.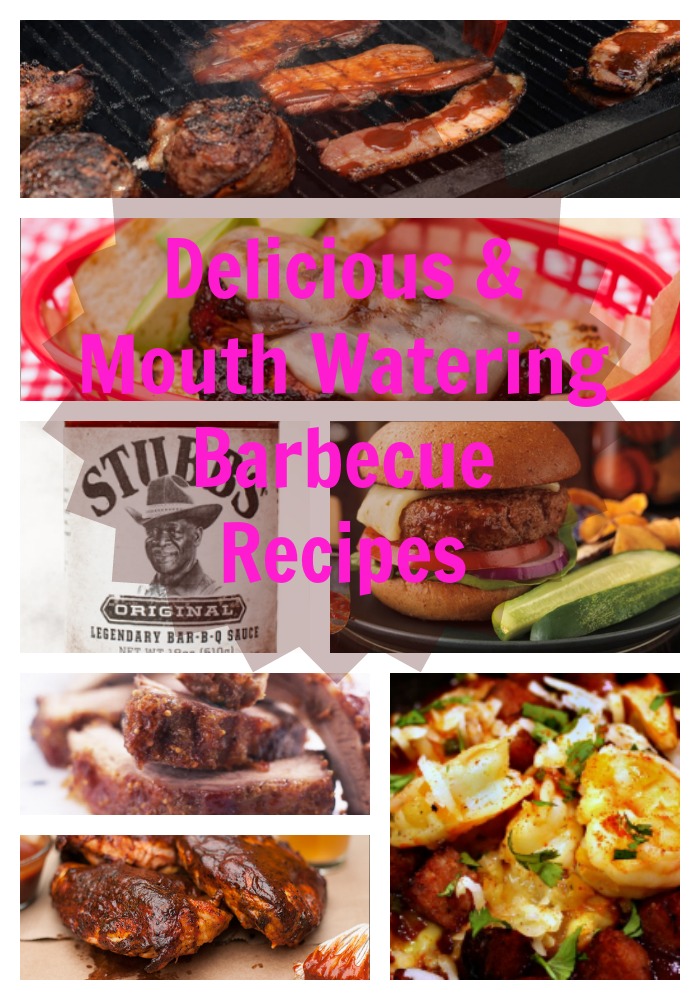 Try these Barbecue Recipes using Stubb's Barbecue Sauces, rubs and marinades.
5 Grilling Myths Debunked
"Don't season you steaks until AFTER you cook them!" "Only flip your meat once!" Those are just two of some common grilling myths that national barbecue expert and Stubb's Bar-B-Q grandson Rocky Stubblefield hears at competitions, cook-offs and backyards throughout the country.
"Don't season your steak until after it's cooked." Some cooks say that adding salt before cooking dries out the meat, but I've never found that to be true. Maybe it's because I'm from Texas where we love our dry seasoning rubs, but I always season first before cooking, and I haven't had a dry steak yet. Seasoning raw meat before cooking lets the meat absorb the flavors for a bold taste in every bite.
"Use the 'poke test' to check if your meat is done." The poke test is where you literally poke the steak with your finger to feel for doneness, and many cooks say that it's better than piercing the meat and letting juices run out. Taking into consideration meat thickness, grill temperature and personal preference for level of doneness – the type of poke test I do is poking it with a meat thermometer. This is truly the only way to make sure your food is cooked to a safe temperature. I cook for my family and friends a lot, and I don't want anyone getting sick. Better safe than sorry.
"Only flip your meat once during cooking." This is so commonly repeated that I don't know where it came from, but Stubb always said that you need to turn your meat as needed so it gets an even flow of cooking. I always flip the meat – no matter whether I'm cooking steak, chicken, burgers, sausage or pork –several times. If the meat is sitting over flames without being flipped regularly, it can get burned and dried out on one side. I flip every few minutes depending on the heat of the grill, turning the meat more frequently when the grill is really hot.
"Keep a spray bottle handy to stop flare-ups." Water puts out fires, right? Well, wrong when you're talking about grilling flare-ups. Those are the result of fat dripping from the meat, and you don't put water on a grease fire. Also, spraying water on a charcoal grill will make the ashes rise onto your food. I find that shutting the cover and vents of the grill to cut off the fire's oxygen is the best way to control a flare-up. You can also move the meat to take away the fire's fat dripping "fuel." To put out a fire immediately, Stubb always kept baking soda handy if a flare-up got out of hand.
"You know your ribs are perfect when they are falling off the bone." This phrase is often used to describe perfectly tender meats. When you're talking about ribs, though, that means they are overcooked. Rib meat should be grilled until they begin to pull away from the bone, but you should be able to bite into and leave a bite mark as you eat it off the bone.  Overcooked ribs become less flavorful – even a little bit mushy. Trust me, if you go to a BBQ competition and your ribs are literally falling off the bone, the judges will consider them overdone.
GIVEAWAY: Stubb's Grilling Season Prize Pack
(Branded grilling spatula, Stubb's T-shirt, Stubb's Apron, Stubb's hat and (10) coupons for free products worth ARV$100)
Click here to enter the giveaway.
Learn more about Austin, Texas-based Stubb's Legendary Bar-B-Q,  the maker of Stubb's, the No.1 premium Bar-B-Q sauces, rubs and marinades in the country, available in 85 percent of grocery stores nationwide. Pick up a few to try for all those barbecue recipes for summer cooking.
Disclosure: NYC Single Mom was not compensated for this post but did receive  Stubb's coupons.
Save
Save
Save
Save