Sensational Strawberry Recipes for National Strawberry Day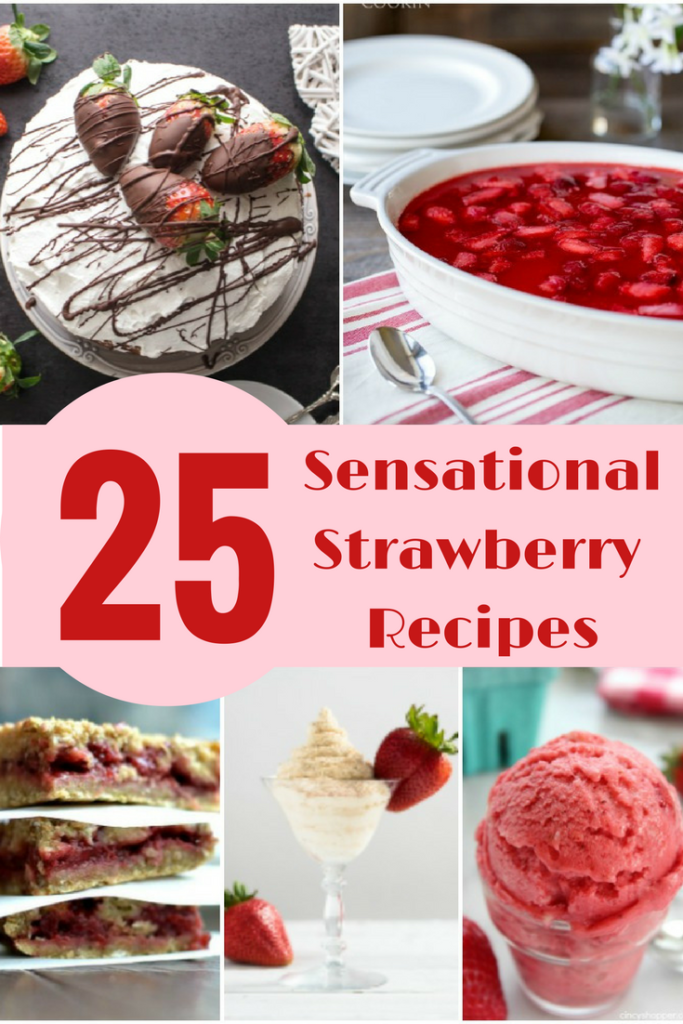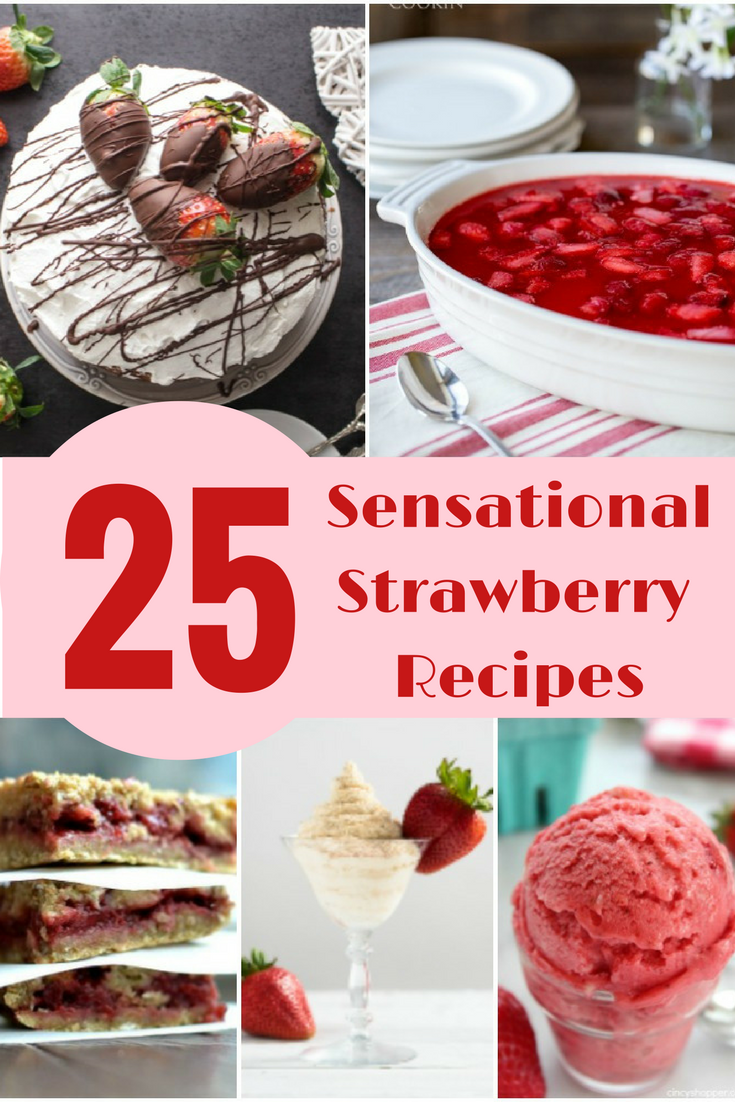 Do you love strawberry recipes as much as I do? In New York, prime strawberry season is typically late May/early June, but National Strawberry day is February 27. If strawberries are in season near you right now, you'll really appreciate these strawberry recipes. If you're still buried under snow, make a run to the grocery store and enjoy Strawberry Day anyway! There are sweet, savory, and healthy options on this list – I've included something for everyone!
1. Very Strawberry Cupcakes – I Was Born to Cook
2. Magic Strawberry Jello Cake – Living Sweet Moments
3. Easy Strawberry Cheesecake Pie – Thrifty Jinxy
4. Strawberry Banana Oatmeal Bars – To Simply Inspire
5. Minty Strawberry Lime Icebox Pie – Home Cooking Memories
6. Strawberry Whipped Cream Vanilla Yogurt Cake – An Italian In My Kitchen
7. Strawberry Shortcake Donuts – Sugar, Spice, and Family Life
8. Strawberry Brownie Trifle – Coffee With Us 3
9. Easy Chocolate Covered Strawberries – Natural Chow
10. Ultimate Strawberry Frozen Yogurt – Greens N Chocolate
11. Strawberry Jello Pretzel Salad – Amanda's Cookin
12. Mile High Fresh Strawberry Pie – For The Love of Food
13. Easy Strawberry Banana Ice Cream – Cincy Shopper
14. Chocolate Covered Strawberries Ice Cream Pie – The Mandatory Mooch
15. Strawberry Praline Trifle – Garden Matter
16. Mini Strawberry Shortcakes – Momma Lew
17. Strawberry Tart Recipe – Ann's Entitled Life
18. Strawberries and Brandy Alexander Cream – Nomageddon
19. Strawberry and Lemon Muffins – The Country Chic Cottage
20. Puff Pancake with Fresh Berries and Strawberry Maple Sauce – Scattered Thoughts of a Crafty Mom
21. Blueberry Yogurt Stuffed Strawberries – FoodNService
22. Strawberry Banana Pudding Cake – Maybe I Will
23. Chocolate Strawberry Muffins – Day By Day in Our World
24. Strawberry Mango Salsa with Basil – DIY Candy
25. Strawberry Feta Spinach Salad – Mama Likes to Cook
Do you have a favorite strawberry recipe you'd like to share?
Save
Save
Save
Save
Save
Save