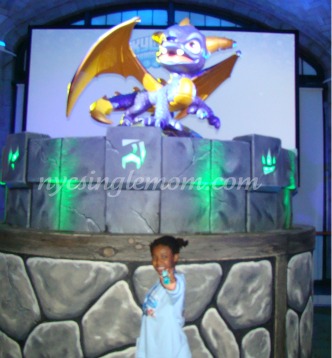 Gamers looking for the newest and coolest innovation in video game play, then  look for Skylander's Sypro's Adventure set to go on sale October 16. In Skylanders Spyro's Adventure™, you can Bring Your Toys to Life™ in a boldly innovative adventure game where players collect real-world interaction figures and teleport them directly into the game using a mystical Portal of Power™. 
Propelled by a story-driven adventure, penned by Academy Award-nominated Toy Story feature film writers, Joel Cohen and Alec Sokolow, players take on the role of a powerful Portal Master who can control over 30 different characters, including the beloved fire-breathing dragon Spyro.
Players will embark on a fantastical journey into an amazing world, where they will explore mysterious, mythical lands, battle menacing outlandish creatures, collect gold and treasures, and solve interesting puzzles while on a quest to save their world from Kaos, an evil Portal Master.

For the first time ever, players can personally customize and power-up their toys, as well as bring them to life on a friend's Portal of Power for co-op play and player-versus-player arena battles.
Additionally, with the freedom to change characters whenever they like, Skylanders Spyro's Adventure allows kids to utilize different interaction figures and strategies each time they play.
My daughter and I went to an event the game up close and personal and I must admit, it was hit with my daughter and all the kids playing the game. The use of the interactive figures into game play is really neat and truly engages the kids because all the figures do something different and propels the game along. Trust me your kids will love this game.
If that isn't enough to love the game, I think the best feature of all is the transportability of the characters and the game play to make it the uItimate play date.
It does not matter which gaming system you have at your house, the Skylanders work on and across all major gaming systems including the Nintendo Wii, Nintendo 3DS, XBOX 360, PlayStation 3 and PC/MAC. This means that your child can take their Skylanders over to a friend's house, drop them on their friend's Portal of Power and their Skylanders will come to life in the game even if they have a different gaming system! Also, because each toy has a brain, all of the accomplishments earned at their friend's house will be kept when they return their Skylanders to their own Portal of Power. Cool, right.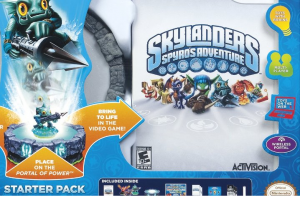 One NYC Single Mom Reader will win Skylander Spyro Adventure Game Starter Pack for Wii ($70 SRP.)  Contest ends midnight, December 18, 2011. Required Entry: Subscribe to NYC Single Mom.com via e-mail and confirm subscription.
Full disclosure: Level 1 Compensation. Click here for NYC Single Mom's Disclosure Policy.