DIY Sundae Service at Summer Garden & Bar
at Rock Center Café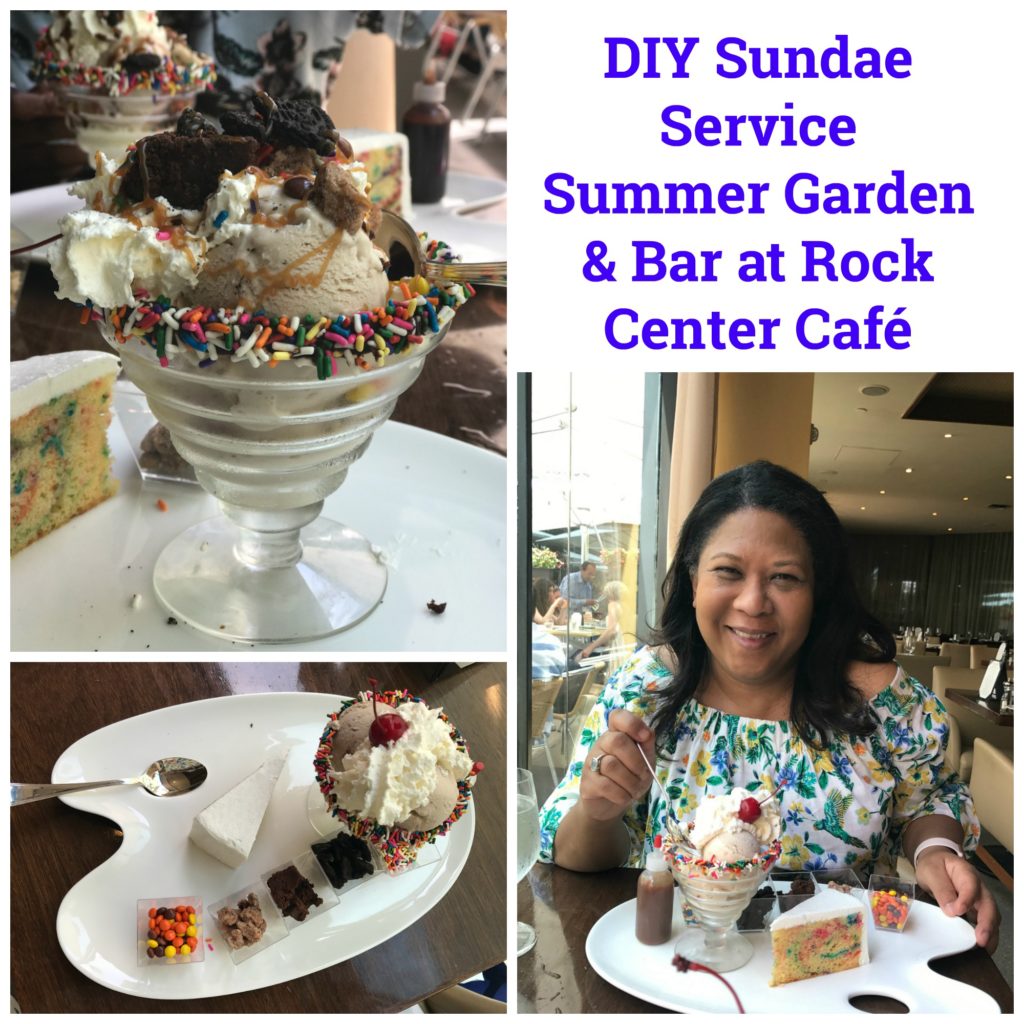 Summer Garden & Bar at Rock Center Café (which replaces The Rink at Rockefeller Center each year) has officially opened for the season and they have added something pretty unique to the menu – a DIY build-your-own sundae service.

My daughter and I are avid ice cream lovers  so we could not resist the chance to create the sundae of our dreams. The DIY Build- Your- Own Sundae Service allows guests to choose their ingredients which includes housemade ice cream flavors, toppings, syrups, whipped cream, candied pecans, brownie bites, birthday cake, chocolate covered banana, red velvet cupcake, sugar-swirl lollipop and so much more, offering ice cream fans 58 million possible personalized sundae combinations on the menu. Wow, right!!
Toppings are an ode to classic candy shop treats: M&M's, gummy bears, and candied pecans, vintage-style sugar-swirl lollipops and caramel pearls – adding a dash of nostalgia in selecting your childhood favorites, all offering decadent possibilities for a customizable personal sundae each and every time!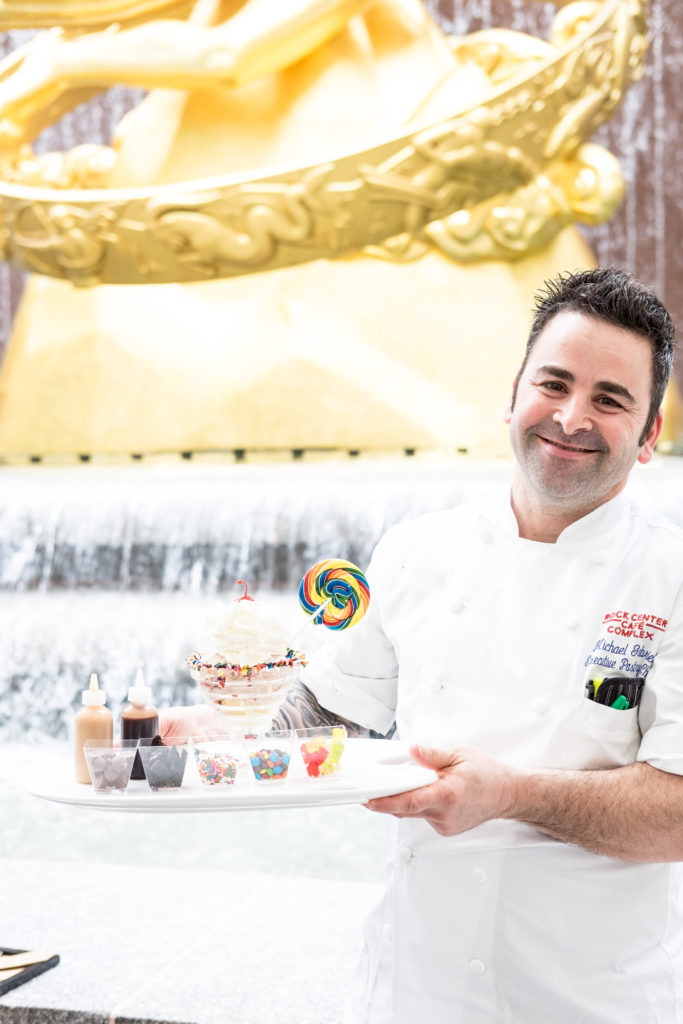 Created by Pastry Chef Michael Gabriel, the sundae is designed to be highly interactive. "Every summer we have a high demand for ice cream, and guests today increasingly want to customize dessert their own way," explained Gabriel. "We wanted to add a playful twist by revamping all-American favorites… and added the most-requested flavors and toppings — birthday cake is currently #1."
Delicious housemade ice cream flavors include chocolate, strawberry and vanilla. Chef Gabriel churns the ice cream at his bake shop beneath Rock Center, baking cakes and brownies as toppings and making syrups and sauces.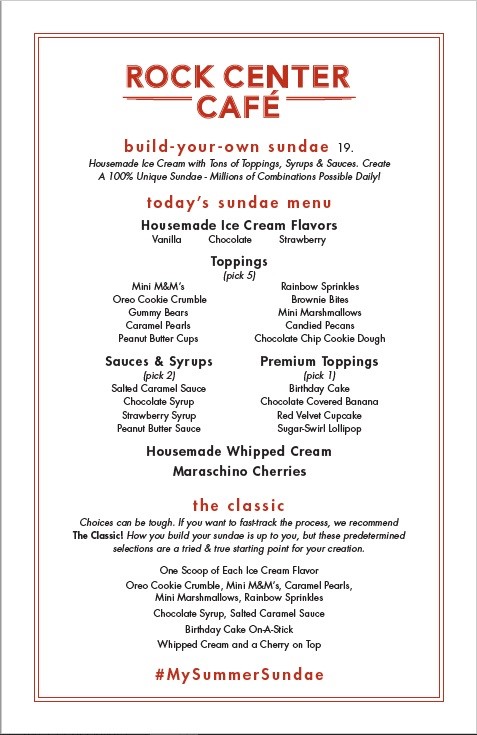 My daughter and I were able choose ingredients, and then build our own sundae at our table. I went for strawberry ice cream topped with candied pecans, brownie bites, little M& Ms, oreos cookies topped with salted caramel syrup, freshly made whip cream and a cherry.  And I can not forget the birthday cake. This was the ultimate in ice cream treats that this ice cream lover savored. The freshness of the strawberry was so perfect and the chunks of strawberries added to how yummy it was. And the toppings were just an added bonus in my book. And I can see why the birthday cake was the #1 choice, it was so moist and tasty. Absolutely yummy!!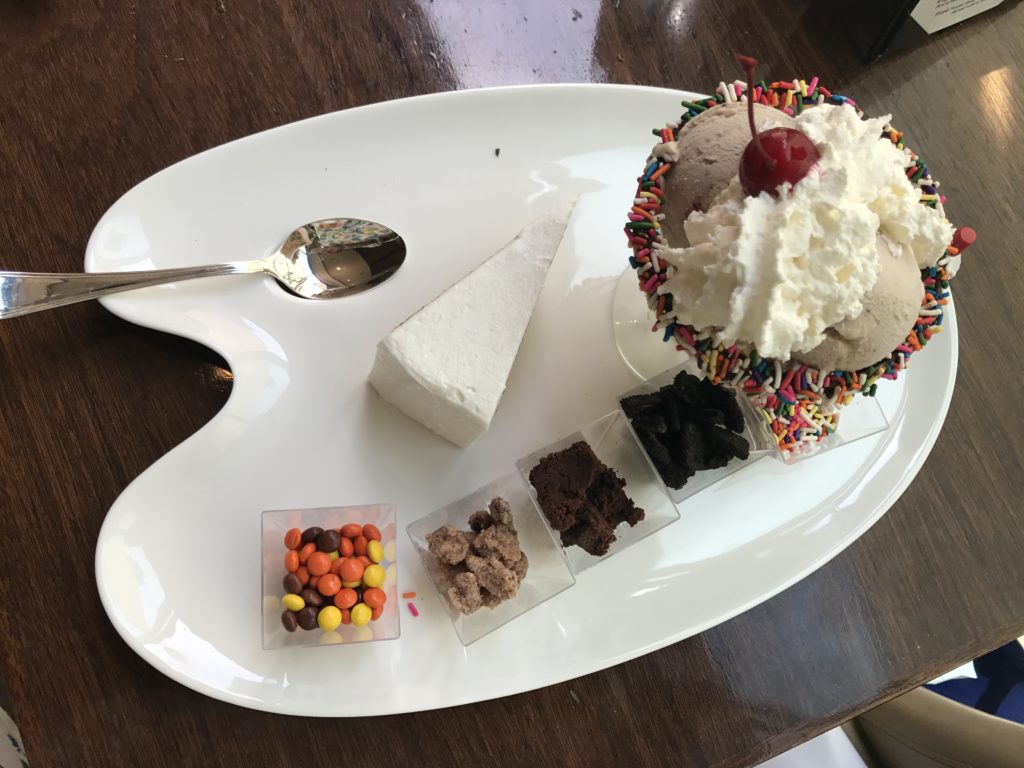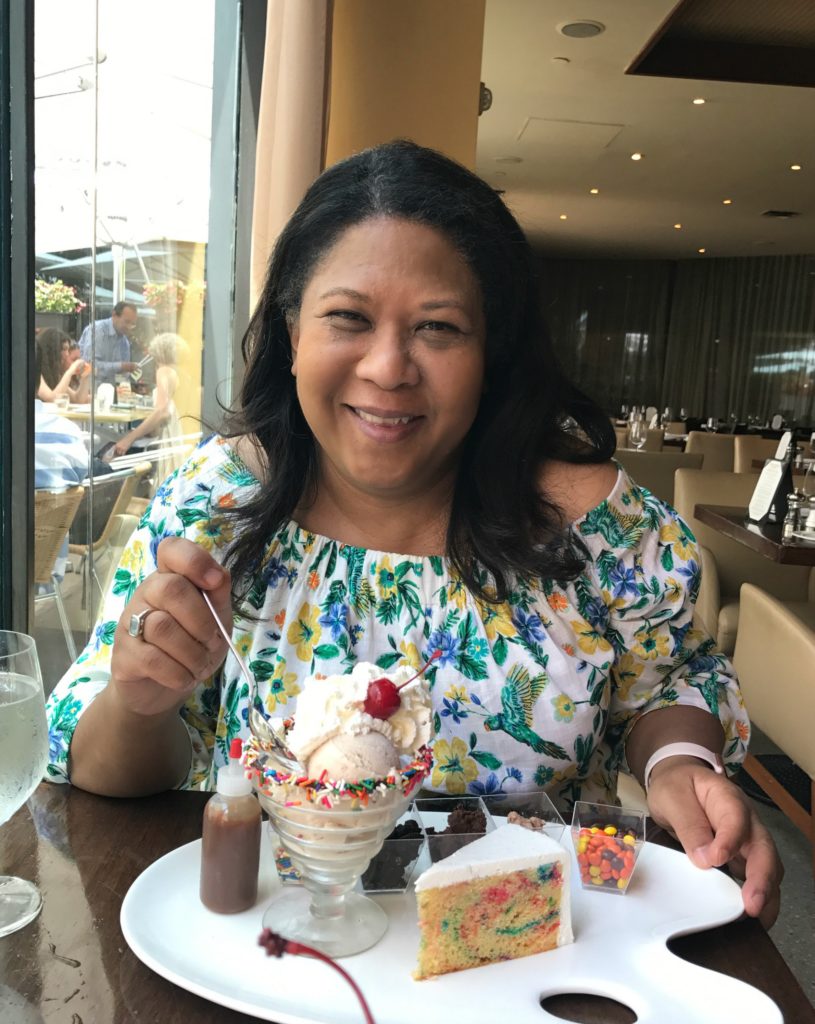 My daughter went with a mix of the vanilla and strawberry ice cream topped with chocolate chip cookie dough, sprinkles, gummie bears and of course whip cream and a cherry. Who doesn't choose the cherry? She loved every morsel of her sundae!!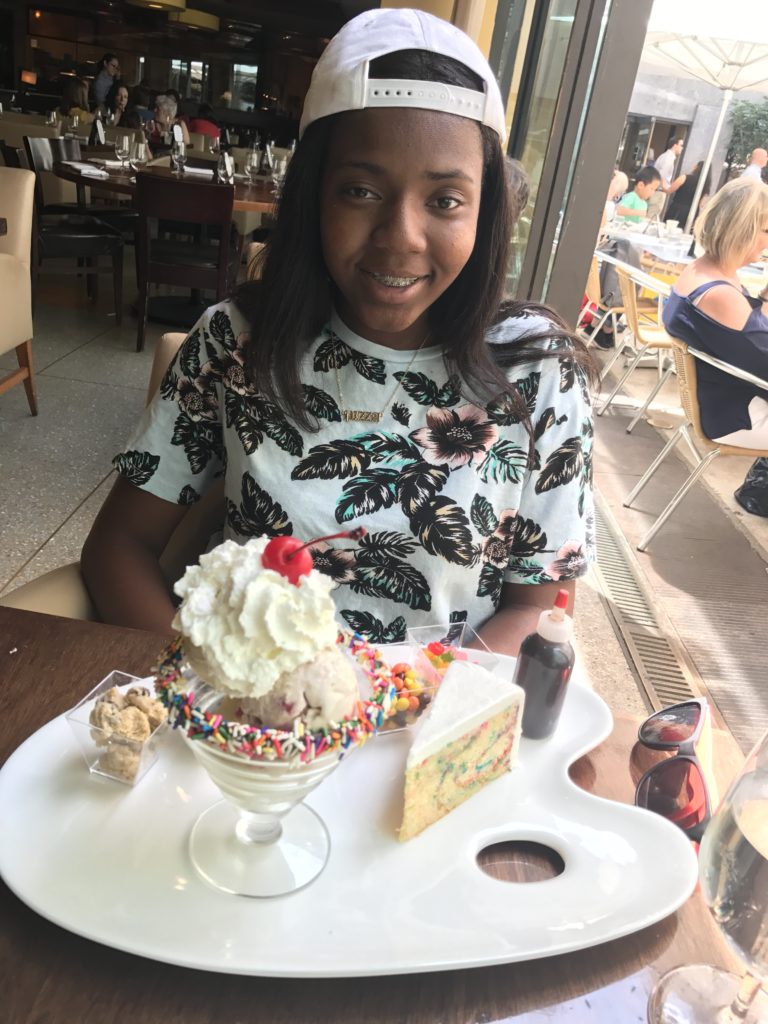 Before partaking of our sundae treat, my daughter  and I enjoyed perfectly prepared entrees. We both loved my deliciously prepared Black Angus steak and eggs. My daughter has a habit of trying my entree and eating half of it. That's how I know it's delicious because any chef that can get a picky teen to eat has done their job.
My daughter was thoroughly impressed by the RCC Chef's Burger that was a blend of Black Angus short rib and Chuck blend topped with Pecanwood-Smoked Bacon and carmelized onions (isn't every burger enhanced with bacon.)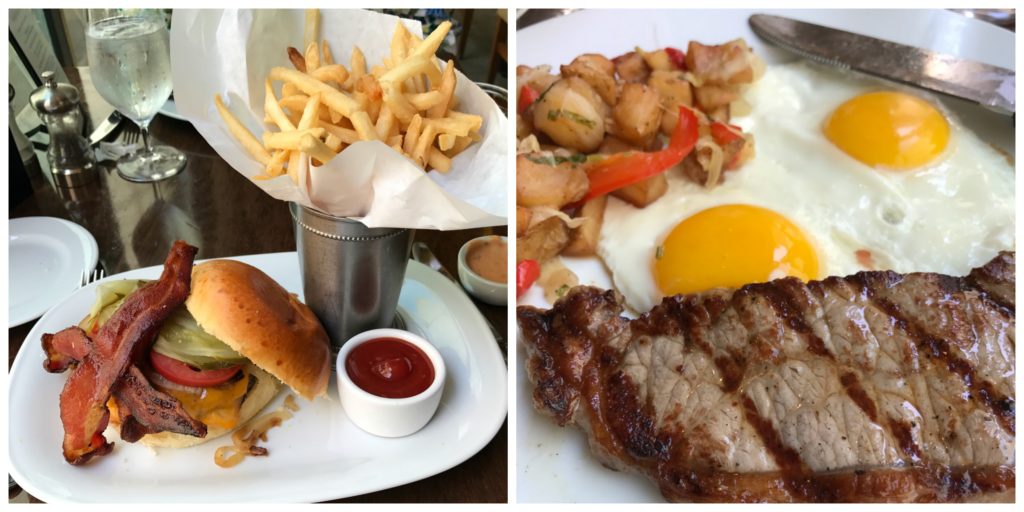 I highly recommend stopping by the Summer Garden & Bar at Rock Center Café to indulge in the DIY sundae service to  build your own sundae at the table, you will not be disappointed.
For more information, visit patinagroup.com/rock-center-cafe.
Location: Rockefeller Center – 20 West 50th St., New York, 10020
Disclosure: NYC Single Mom was treated to the DIY Sundae Service courtesy of Summer Garden & Bar at Rock Center Café . Opinions are deliciously 100% our own.
Save
Save
Save
Save
Save
Save
Save
Save
Save
Save
Save
Save
Save
Save
Save