Lavanila Girl Healthy Deodorant Just for  Tweens andTeens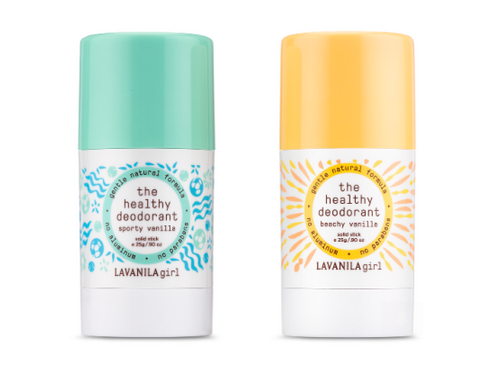 Do you have a tween or teen and are looking for healthy deodorant for their young more delicate skin?
Lavanila is introducing a new line of Lavanila's best-selling Healthy Deodorants that is formulated specifically for young girls and teens.  Extra gentle and non-irritating, Lavanila Girl's twist-up solids fight odor by inhibiting the growth of bacteria, while importantly, still allowing young skin to breathe. Completely free of aluminum, parabens, propylene glycol and harsh chemicals, this formula offers a safe, effective and fun option for those new to deodorant.
Powered by the same breakthrough, beta-glucan technology found in The Healthy Deodorant, this new collection is uniquely infused with skin-soothing ingredients perfect for delicate skin:
Calendula: A gentle, natural ingredient prized for its anti-bacterial and skin-soothing properties
Noni: A unique, tropical fruit that contains over 165 beneficial compounds and antioxidants to nourish the skin
Beta-Glucan Technology: A proprietary, 100% natural technology that works to break down and absorb sweat molecules to stop odor before it starts
With a compact, round applicator that is perfectly sized for the younger underarm, this non-whitening, super-soft formula is available in two fun, refreshing scents:
• Beachy Vanilla: Tropical and breezy, with bright citrus, creamy coconut and yummy vanilla
• Sporty Vanilla: A squeaky clean combination of fresh apple, watery melon and soft vanilla
Lavanila Girl's all-natural formula is a great way to start healthy habits early, and with its playful packaging and fresh scents, it's offering this next generation the opportunity to live a cleaner, healthier and smarter life – starting now.
Lavanila Girl Healthy Deodorant  is available only on lavanila.com and cost 2 for $12 (sold as a duo with one of each scent.)
Save
Save