PETER RABBIT™, the mischievous and adventurous hero who has captivated generations of readers, now takes on the starring role of his own irreverent, contemporary comedy with attitude. In the film, Peter's feud with Mr. McGregor (Domhnall Gleeson) escalates to greater heights than ever before as they rival for the affections of the warm-hearted animal lover who lives next door (Rose Byrne).  James Corden voices the character of Peter with playful spirit and wild charm, with Margot Robbie, Elizabeth Debicki, and Daisy Ridley performing the voice roles of the triplets, Flopsy, Mopsy, and Cotton-tail.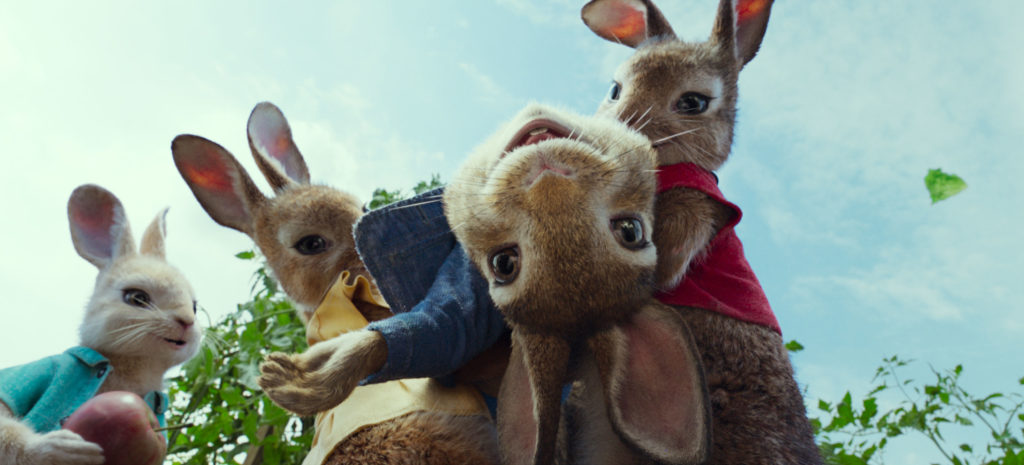 Searching for family-friendly, funny romp through Mr. McGregor's garden, then you will really like Peter Rabbit. From the trailer, I really wanted to see the film. I am sure are thinking why. It just seemed like a fun time and it is.
Both my daughter and enjoyed movie. We both laughed a lot throughout which was a surprise.  And why you ask?  Very rarely does stunt casting work for voice-overs in live action/CGI  movies but James Corden as Peter Rabbit adds so much to the character and the movie. Peter Rabbit as we know from the book is always sneaking into Mr. McGregor and barely escaping being captured so it makes sense that Corden voices Peter as funny, mischievous and a bit snarky rabbit.
Now that all said, I was not as impressed with the other characters but they are needed to propel the story. Someone has to protect Peter and his sisters, Flopsy (Margot Robbie), Mopsy (Elizabeth Debicki), and Cotton-Tail (Daisy Ridley.) Note here is where stunt casting is superfluous.  Rose Byrne plays the next door neighbor but again it's a way to move the story along and serve as a protector from the evil Mr. McGregor (part deux). Spoiler alert, Mr. McGregor actually dies and is replaced younger Mr. McGregor who equally hates the rabbits and the animals of the forest.
One thing I do appreciate and thank god Hollywood didn't Americanize the location and the characters. The movie is set in the English countryside and all the actors are English!!
For parents of younger kids, I just want to warn you that there are two what I would call "violent" or should I say loud scenes. If you have read the books, you know that Mr. McGregor is always chasing Peter around his garden, this is shown and might seem scary by younger kids and there is another scene where explosives are used. Again, older kids will not think anything of it but you might have a child who gets scared easily or doesn't like loud noise.
Disclosure: NYC Single Mom attended a screening of Peter Rabbit to facilitate this review.