Goodbye Christopher Robin offers up a rare glimpse into the relationship between beloved children's author A. A. Milne (Domhnall Gleeson) and his son Christopher Robin (Will TIlston), whose toys inspired the magical world of Winnie-the-Pooh.
The film is directed by Simon Curtis and opens in  select cities on October 13. This past week, I attended a Q&A Session with the Director Simon Curtis.
Interview with Goodbye Christopher Robin
Director Simon Curtis
No surprise that both my daughter and I are fans of Winnie The Pooh. And if you are like us, you probably don't know that much about the history of those iconic characters and how the book came to be.
As a parent, I think you love a book from when you were a child and want to pass on that love to your own child which is why I was intrigued by the entire back story of Goodbye Christopher Robin.
Director Simon Curtis offered up what it was like to have filmed the movie where author A.A. Milne and his son would have walked during the son's youth which eventually inspired the author to write Winnie the Pooh.
Those scenes resonated for me because while I don't have a huge backyard or meadow to walk with my daughter, I do have fond memories of taking my daughter to school when she was Christopher Robin's age. Kids at that age are so talkative and inquisitive that it makes for funny memories years later. The difference is that Milne and his son's experiences brought us Winnie The Pooh.
It was meaningful for us to go back." And yes "that rock they are sitting on is the rock that A.A. Milne and his son would sit on. It is the 100 acre woods."- Simon Curtis
While I love action pictures, I think I am constantly on the look out for movies that both my daughter and I will enjoy.  For this reason, I loved that Curtis was so honest about why  he chose to do the movie
I just loved the script when I read it. So many films in this day and age are absolutely about nothing and this seemed to about so much."
My parents are no longer with us and my siblings live far away but Curtis spoke with clarity and honesty about the importance of family quoting the nanny Olive (Kelly Macdonald.)
Pay attention to the people who are around you as they are not going to be around forever."
Totally agree that her comment is a good reminder to us all to value the time we have family and friends.  I certainly hope my teen daughter absorbed her comment.
I think that today's audiences will find it fascinating to see a glimpse of English family life right after WWI and what life was like for children of the upper classes.
I think as a parent I am certainly happy, life is not like that anymore. Curtis mentioned a friend who only remembers his mother touching him only once.
It was perfectly natural to hand your kids off to the nanny on day one and then ship them off to boarding school at 8″
I don't know if I agree but his comment was "that is why England is a mess."
Fun fact – Christopher Robin's  stuffed animals are on display at the New York Public Library. Who knew??
ABOUT GOODBYE CHRISTOPHER ROBIN -The movie tells the story of writer A.A. Milne's relationship with his son during the years they lived in the English countryside. Milne wrote  Winnie-the-Pooh" and "The House at Pooh Corner" based on his  son's collection of stuffed animals that have gone onto iconic status.
Along with his mother Daphne (Margot Robbie), and his nanny Olive (Kelly Macdonald), Christopher Robin and his family are swept up in the international success of the books; the enchanting tales bringing hope and comfort to England after the First World War. But with the eyes of the world on Christopher Robin, what will the cost be to the family?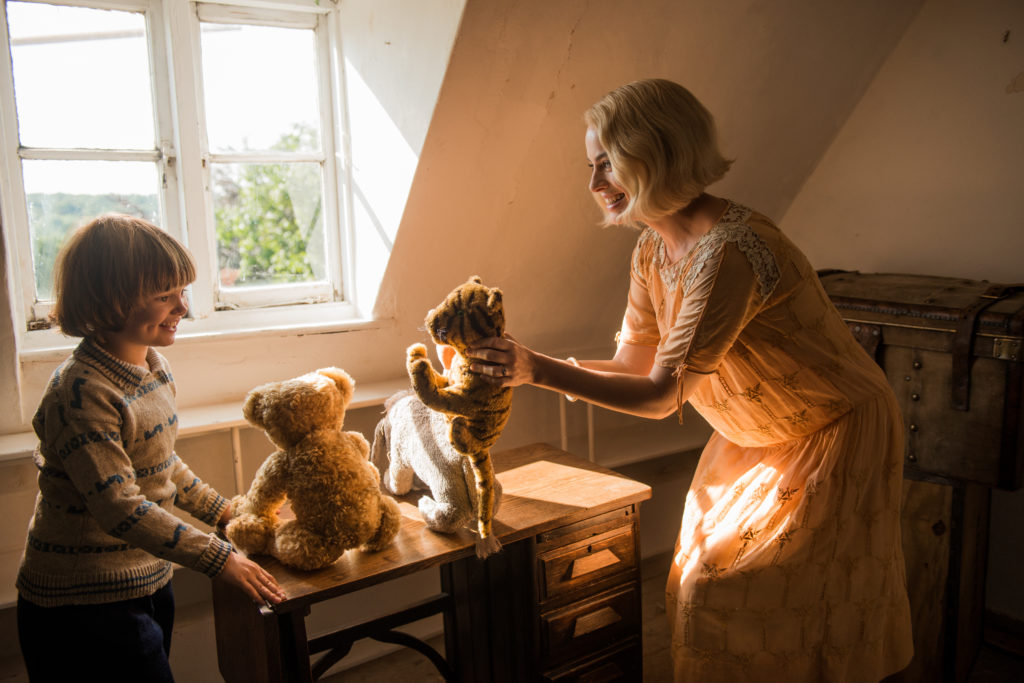 GOODBYE CHRISTOPHER ROBIN opens in select cities on October 13 and will open in additional cities October 20.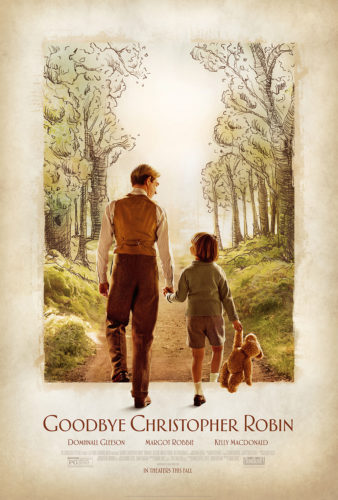 Curious, how much do you know about the author of Winnie The Pooh, A.A. Milne or the backstory of the book?
Disclosure: This post was written in partnership with the Role Mommy Writer's Network. All opinions are 100% my own.
Save
Save
Save
Save
Save
Save
Save
Save
Save
Save
Save
Save
Save
Save