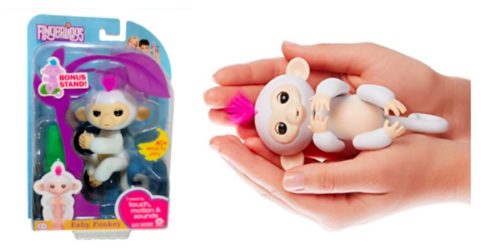 Fingerlings Baby Monkey Sophie – Fingerlings were the hottest toy this past Christmas. One of the reasons Fingerlings were so popular was their interactive responsiveness. Fingerlings respond to sound, motion, and touch with blinking eyes, head turns, and silly monkey babble. If you blow a Fingerling a kiss,  they will kiss you back! You can hang them upside-down by the tail and watch them monkey around. Plus feel free to et them to sleep or make a loud noise and watch them get excited! The Sophie Fingerling baby monkey. 40+ ways to play. Comes with bonus stand as well.
GIVEAWAY: One lucky NYC Single Mom Reader will receive Fingerlings Baby Monkey Sophie
Fingerlings Baby Monkey Sophie

Disclosure: NYC Single Mom was not compensated for this post.