Cinco De Mayo Drinks and Recipes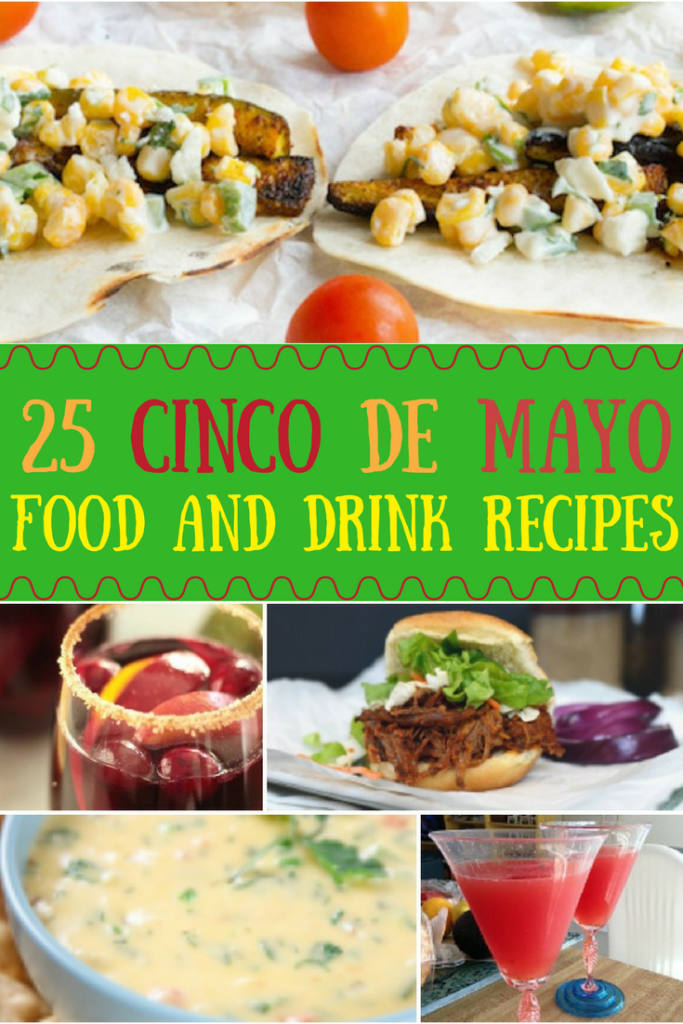 Cinco, Cinco, Cinco de Mayo…you've heard that song, right? While the original purpose of the day is to commemorate the Mexican Army's victory at the Battle of Puebla on May 5, 1862, it's really more of a day to celebrate Mexican heritage. The best part about Cinco de Mayo is that much like St. Patrick's Day, any ethnicity is welcome to celebrate! Why not host your own bash this year with some of these Cinco de Mayo party foods and drinks that include 25 Margarita Recipes that your guests will all love.
1. Cucumber Avocado Salsa – To Simply Inspire
2. Restaurant Style Chipotle Salsa – Home Cooking Memories
3. Tacos Al Pastor – Saving You Dinero
4. Guacamole Recipe – Sugar, Spice, and Family Life
5. Chipotle Gouda Queso Dip – Natural Chow
6. Grilled Zucchini Tacos with Mexican Street Corn Salsa – Greens & Chocolate
7. Incredibly Delicious Pineapple Salsa – DIY Candy
8. Chicken Black Bean Casserole – Garden Matter
9. Slow Cooker Chicken Tacos – New South Charm
10. Copycat Taco Bell Mexican Pizza – Thrifty Jinxy
11. Spicy Pork Sausage Quesadillas – The Country Chic Cottage
12. Healthy Taco Salad Recipe – Wholesome Yum
13. Smoky Grilled Chicken Quesadillas – Accidental Happy Baker
14. Chili Con Queso – Baking Beauty
15. Chicken Taco Soup – Day by Day in Our World
16. Slow Cooker Tex Mex Barbecue Beef Sliders – Scattered Thoughts of a Crafty Mom
If your mouth is burning just from thinking about that spicy deliciousness, don't fret. These delicious drinks will cool it right down!
17. Watermelon Margaritas – I Was Born to Cook
18. Pineapple Jalapeno Infused Tequila – Grey is the New Black
19. Resort Style Lemonadas – Maybe I Will
20. Easy Coquito Recipe – A Magical Mess
21. Mango Orange Margarita – Ann's Entitled Life
22. Black Currant Lime Sparkling Sangria – Lydi Out Loud
23. Pink Moscato Sangria – Flour On My Face
24. Grilled Pineapple Jalapeno Mocktail – My Yellow Apron
25. 25 Margarita Recipes
Will you be celebrating Cinco de Mayo this year? Tell us about your party plans!
Save
Save
Save
Save
Save
Save
Save
Save