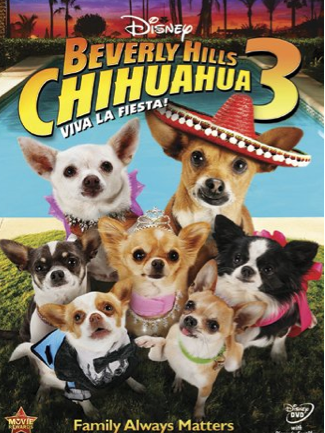 Beverly Hills Chihuahua 3,Viva La Fiesta! features George Lopez  as the Voice of Papi in a Hilarious Fiesta of Family Fun. Everyone's favorite talking Chihuahuas Papi (voice of George Lopez) and Chloe (voice of Odette Annable) reprieve their roles and in Viva La Fiesta are  joined by their five playful pups in an all-new family comedy.
The canine cast features the voice talents of Miguel Ferrer ("Beverly Hills Chihuahua," "Traffic") as Delgado, Eddie "Piolin" Sotelo ("Beverly Hills Chihuahua," Hispanic National Radio Morning Show DJ) as Humberto and Tom Kenny ("SpongeBob Square Pants") as Sebastian.
Review:  Beverly Hills Chihuahua is a fan favorite and is pretty popular with my daughter.  My daughter loved this cute family friendly farce. As she said, "what's not to love, a talking dog is a winner in my book." From my perspective, I liked the idea that the movie introduces an important  Latin American tradition of the quinceañera. Of course, it's not a girl turning 14 that is celebrated but a dog.  This basically benign movie is pretty funny because it's all about the talking dogs that makes the movie. Your kids will love it.
GIVEAWAY: One NYC Single Mom Reader will receive  Beverly Hills Chihuahua 3: Viva La Fiesta! ($29.99 SRP)
Stay connected with the latest news and information on "Beverly Hills Chihuahua 3: Viva La Fiesta!"
Disclosure: Level 8 compensation. Click herefor NYC Single Mom's disclosure policy.