Updated on the 16th anniversary of September 11.  Over the years, I have been asked a host of questions from fellow New Yorkers and people I have met through my travels, plus my daughter has asked and I have responded to her and others with very short answers. But I thought it was time to document my experience. And to avoid writing a long narrative, I decided to use a Q and A format.
Where were you on September 11? I was on my way to work. At that time, I worked downtown in 3 World Financial Center. For those who are unfamiliar with the area, The World Financial Center is a group of pyramid and domed topped buildings across the street from the World Trade Center. In 2011, I  lived in the West Village so my subway line to get to work was the E train and my stop was The World Trade Center. It's hard to remember now but at that time, there was a mall underneath the World Trade Center, a bustling mall filled with people walking underground to companies on the other side of the World Trade Center. My usual path was to exit the train and walk underneath the World Trade Center through the mall, and get some early morning window shopping in.
When did you first see the World Trade Center on fire?  When I arrived at my stop, there were policeman blocking the entrance to the mall (remember the mall is directly beneath the World Trade Center.) The hundreds of people coming off the train were visibly annoyed (New Yorkers like their routines, too)  and I was one of them. "WTF, why can't we walk and avoid the outdoors, good grief!"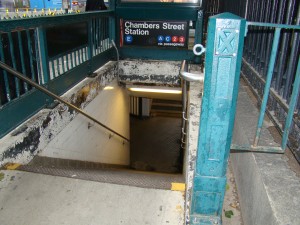 We were routed up another subway entrance (see photo left) that lets you out on Church Street directly across from the WTC plaza. As I followed the others up the steps, I could see the look of horror and shock on their faces. Literally every person was mouthing, "oh my god." As I reached the street, I could see what they saw, the North Tower with a big hole in it with smoke bellowing out of it  and completely  in flames. I still had no idea what had happened. It just was a fire to me at that point. As I stood there memorized by the fire, I noticed debris falling from the building as I just stared. Then I began to notice grown men and women crying and it hit me it wasn't debris coming from the building, it was people jumping, lots of people, holding hands, singly, just jumping. At that point, I just started to shake and cry. I was in shock. What were you thinking at that time? Oddly, as I watched the building burning and people jumping, I thought, " how am I going to get to the office since the street was blocked?" In moments like this I think you go to the familiar. As I stood there,  I remember thinking everything is going to be okay, here come the masses fireman running down the street and the fire trucks were arriving Again, oddly I called my manger was, I am going to be late for the meeting.
When did you realize it wasn't going to be okay?As I sort of stood around and walking on Church Street in my rational/irrational state of mind, all of sudden I could see people gasping as they looked upward and then I saw what they saw,  the second plane coming at the South Tower and I ran just like everyone else, just running and I don't know why but I just stopped next to a newsstand. And then it came, the  "boom" of the plane hitting the South Tower. It is a sound you will never forget, it just was the loudest explosion, nothing I have ever heard before or hope to God I never hear again. A
As it hit, all the windows blew out all around me. I could hear screaming and windows blowing out. And when it was over, I surveyed the area around me. There were blown out windows and shoes strewn around me from where people literally ran out of them. And as I looked at my feet, I realized that I was wearing open-toed shoes and they were unscathed. and God only knows why but I was untouched.
I looked down and there was shoes from where people had literally run out of them, people bleeding from the broken glass and there I stood in my open toed mules, unscathed.
Where did you go after the South Tower was hit? I thought again, who knows why but at one point, I thought I would go to our satellite office on Wall Street and then I said fuck it, I am going home. But I do remember just wandering around not knowing what to do and going into the Duane Reade on Broadway and buying a carton of cigarettes. I stood outside just smoking 3-4 cigarettes in a row to try to calm my nerves. Then I realized that I needed to know where my friend and my daughter's future godmother was. She worked in the World Financial Center next door to my building and she have been als0  walking to work across the same path i took. My cell phone (yes, I had one then) did not work and the lines by the pay phones (remember those) were 50 people deep. I just couldn't stand still. So  slowly, I wandered near the World Trade Center and  started to walk north slowly, looking back at the now two burning towers. I watched people wandering in disbelief, occasionally running into people who had escaped and had walked down the North Towers. As I meandered uptown, I have no idea where or when (time stood still,)  people were running at me and then I noticed the South Tower starting to buckle, and I started to run with everyone else. I was lucky enough to be far enough away not to be impacted by the plumes of smoke that literally ballooned through the streets like waves. Later, I found out that one of my friends had to jump into a building to avoid the smoke.
Did you make it home? Finally, I did make it home. I remember distinctly coming home and opening a bottle of wine and drinking it to calm my nerves and then sitting and breaking down into tears. I think was around 10:30.  I just had no idea what to do.
Did you know anyone who was impacted from the Towers being hit? 11 employees who worked in the North Tower were at work and were killed. Many employees were hit by debris as they walked to work. Many people I worked with lost their spouses or friends who worked in the Towers. The woman who sat next to me and was in my group lost her husband and sadly, if they had not come back from vacation a day early, he would still be alive.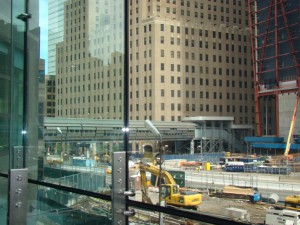 One of my good friends was on the walkway to work when the First Tower hit. She ended in New Jersey. This bridge to the right is the new one because the original one was destroyed.
What happened to your building? Our building was hit by flying debris knocking off a huge chunk and the windows were blown out. The building was vacated for about 9 months while it was repaired and the floors were cleaned and inspected.        Looking back, I was lucky for so many reasons. I was actually late to work that day.  If I had come any earlier I would have either been under the World Trade Center or walking on the West Bridge that was destroyed or been hit by debris. All my closest friends all suffered mentally from the event and were incommunicado because of the phones being busy but they came out physically unscathed.
Do you remember the hours and days after September 11? After I pulled myself together, I went and sat in a church near my apartment. I then went to St. Vincent's hospital to see if I could help with the victims but it dawned on all us, that there were probably no victims coming. Over the next few days, all I remember was the flyers of missing people. They were everywhere. At some point, my friend's dad offered to come up and drive her back to their place in Rehobeth Beach and my family ended up meeting me there. I wanted to be with my family although they were in Northern Virginia close to the Pentagon, not the safest place either but better to be with family than alone.
How do will you remember the tenth anniversary? This Sunday, I will do what I always done, go to the same church that I prayed in that afternoon and light a candle for those lost and those families who have suffered and ,  thank god, that while emotionally, that day will always be with me that I survived and so did my closet friends.
So as we remember the victims, their families and the heroes of September 11, I leave with you photos I took ten years ago on the tenth anniversary of the construction of the new building as it soars to the sky.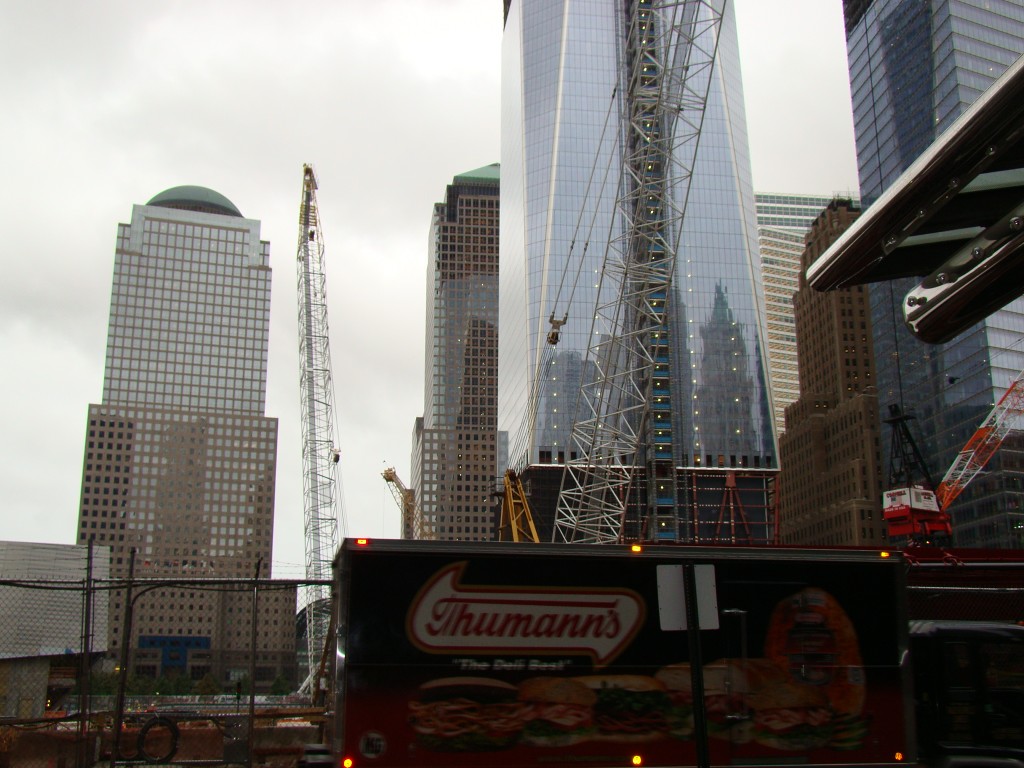 World Observatory September 2017.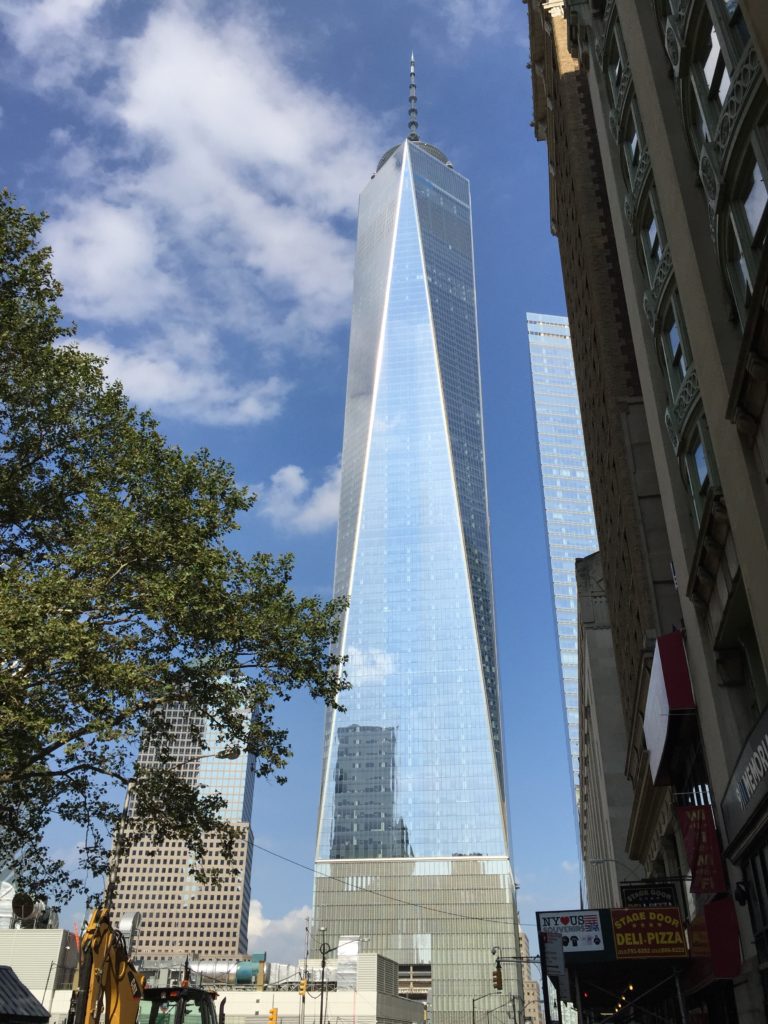 Take a moment today to pray for those who lost their lives and their families. And don't forget to tell your loved ones how much you love and appreciate them.
Save