The across-the-board spending cuts just happened on March 1 which means that the cuts will impact most federal agencies including the Federal Aviation Administration, whose annual budget will be reduced by over 5 percent.
What's the impact to you future air traveler? Unfortunately, these cuts will trickle down to consumers in the form of fewer flights, according to the National Air Traffic Control Association leading to an increase in fares.
Consider these tips to save on airfare in the coming spring and summer months:
1. Take an Early Flight
The time you fly can impact the cost of your flight significantly. Waking up before dawn or catching a late-night red eye may get you the cheapest flight of the day. Here is an example: a departing Southwest flight from Denver to Spokane at 8:05 a.m. costs $148, while the flight that leaves at 10:20 a.m. costs nearly $50 more ($196).
2. Look for Discount Gift Cards
Pick up a few discount travel gift cards from sites like GiftCardGranny.com to save on airfare. For instance, you can find discounts of up to 15 percent on Frontier Airlines gift cards and 8 percent on American Airlines.
3. Shop for Flights on Tuesday
According to FareCompare.com, booking flights at 3:00 p.m. ET Tuesday afternoon is your best chance to find the cheapest airfare. Since more airlines bid for flights on Mondays and companies are busy booking their business travelers, less expensive flights abound on Tuesday and Wednesday.
4. Book a Stop Over
Look for short connection windows but make sure there's enough time to catch the next flight in case of a delay. Also, be sure the amount of savings is enough to justify the hassle of a layover.
5. Travel Midweek
Flight prices peak around the weekend as business travelers fly home and leisure travelers escape for a short getaway or vacation. A departing flight from Denver to Las Vegas costs $83.99 when leaving on Wednesday, while the return flight on Sunday rings in at $205. Depart one day later on Monday and the fare drops to $124.
6. Track Flight Price Drops
Some airlines like Southwest will issue you an airline credit if your itinerary drops in price after you book it. Yapta.com will alert you when your itinerary drops in price so you can request a credit or book the trip if you're holding out for a better deal.
7. Compare Fares from Different Airports
You might assume smaller airports with limited flights will always have costlier airfare, but this is not always the case. With limited schedules, these airports can't accommodate all travelers, making select flights and trips in less demand and therefore less expensive.
8. Search One Way Flights
When you're flying to and from the same city, you may limit your search to roundtrip flights. However, booking one way flights on different airlines may get you a better deal in some cases. Plus, it's easier to redeem miles on one-way flights because the cost of one leg is significantly less than the cost of a roundtrip flight.
9. Don't Your  Check Bags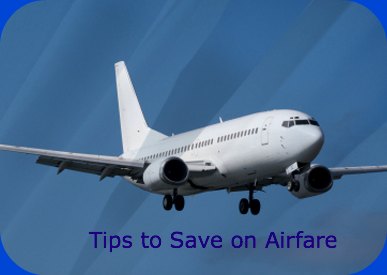 You can save $50 for a roundtrip flight if you don't check a bag and even more if you were planning to check multiple bags. Pack light with a carry on or pick an airline like Southwest or JetBlue that offers a free checked bag (or two, in the case of Southwest).
10. Book Your Flight with Airlines Directly
I always recommend comparing prices and schedules with a search engine like Kayak, but don't forget to search airlines separately. Airlines like Southwest don't allow their airfare to be posted to third-party sites, so you could overlook a better deal. What's more, buying directly from the airline will reduce the hassle associated with dealing with a third party in cases of flight changes or cancellations.
##
Thanks to Andrea Woroch, nationally-recognized consumer and money-saving expert for her tips.  From smart spending tips to personal finance advice, Andrea transforms everyday consumers into savvy shoppers. You can follow her on Twitter for daily savings advice and tips.
 Disclosure: NYC Single Mom was not compensated for this post.