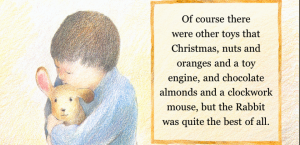 When the iPad was introduced, one of the reasons everyone kept mentioning as to why you should buy one is that your child would start reading more because of the High Definition screen and all the bells and whistles that storybook apps had to offer.
I am sure that it will get more kids to read but I am lucky in that my daughter likes to read in general, so she doesn't need the extra incentive to read on the iPad.
That said, I like the idea of reading on the iPad for when we are away from home. So I was thrilled  to be  asked to review a book of my choice by the Ruckus Media Group. I was excited because up until then I had not found any books that I wanted to purchase in my daughter's age bracket.
What sets the company apart is their library of books with amazing titles that range from Sandra Boyton to Rosemary Wells to Andrew Clements and so many more noted authors. As if that is not enough, they have hired academy winning actors such as Meryl Streep to read the Velveteen Rabbit and Denzel Washington to read John Henry and other celebrity performers.
Ruckus Media Group has an amazing library of mobile reading  apps for kids that brings about the "Perfect Storm" of reading for kids, reading by themselves, listening to celebrities read to them and being able to record for later listening. It truly utilizes the touch technology to bring classic books to life.
We reviewed the Velveteen Rabbit to review. We hadn't read it yes so I thought this would be good test case as it offers all three settings. Well, my daughter loved it. We tried out having listening option first so we could get a sense of how the pages and story reader would work and its quite lovely to hear Meryl Streep read to us at night. Then my daughter took a stab at reading the next day and again this was a piece of cake for her. Given her love of reading it didn't take long for her to read the book. And finally, the recording. This one I decided to do so she would have my voice on record for when I went away on business trips. She loved it. But be forewarned, have some water near by and lock yourself in a quiet place for about an hour. It took me a bit of time to read the Velveteen Rabbit which is a long book. You can stop recording but for me I wanted to get it done in one shot because I am a procrastinator and knew I would sit down twice.
The Velveteen Rabbit of course is a magical book for kids because all kids love their toys especially their stuffed animals. My daughter thought this story was perfect because afterwards she started talking about certain stuffed animals that she wanted to keep forever. There is a reason this book has endured over the years as a classic tale for children.
And if the selection of classic book titles isn't enough, did I mention the $3.99 per app price which frankly is an amazing price for the quality of illustrations and of course, having a celebrity read to you is priceless.
Happy Reading.
For full list of titles and rich roster of talented artists, visit ruckusmediagroup.com