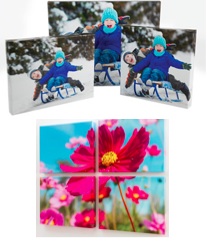 Have you ever wanted to take a photo and create a dramatic canvas art, I have. With Staples Easy Canvas Print, you can can get a gallery-wrapped wall hanging  that uses high-quality textured HP photo paper. This seems like it would be a complicated process but it's not. Just download your photo onto a USB drive and head to your local Staples store where they will upload it and voila,  three days later you will have a beautifully created wall size hanging. P.S. don't worry, your Staples salesperson will help you and it's extremely simple process so much so, I actually went with a couple of options because I wasn't sure which photo I want to get done.
My favorite photo is of my daughter in her flower girl dress. One of my good friends and my daughter's godmother recently got married and it was a big deal for her to be the flower girl so I wanted to commemorate the occasion. You can't tell from my post, I really thought the canvas print turned out pretty well especially since I took it with my iPhone.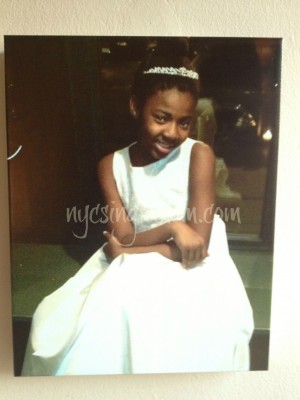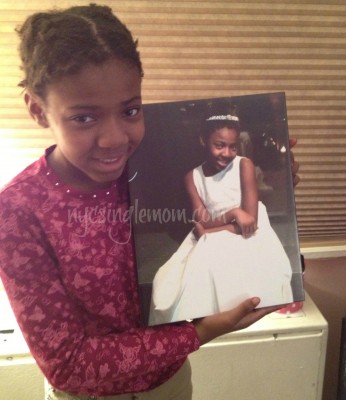 Staples Easy Canvas Print has three sizes (16×20, 12×12 and 11×14 ) to choose from and can either be one frame or you can spread one image across multiple frames. With the holidays around the corner, this is an amazing opportunity to turn a favorite photo into art for yourself or as a gift to a loved one. And with prices starting at $29.99, it is truly affordable. And Staples also has other personalized gifts that include personalized photo, photo enlargements, festive holiday cards, personalized note cards and calendars.
Head to your local Staples and ask about Staples EasyCanvas Prints. For more information, please go to  Staples Copy & Print Center online! and stay social  follow Staples on Facebook and   Twitter.
Disclosure: Level 12 compensation. Click here for NYC Single Mom's disclosure policy.