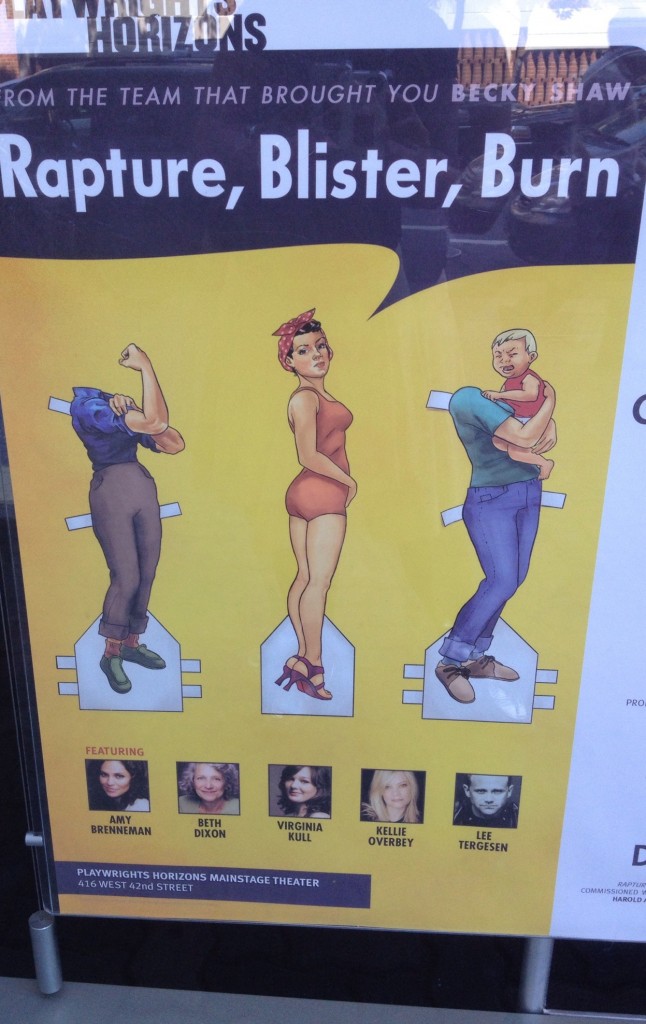 Rapture, Blister, Burn tells the tale of three characters; Gwen, a housewife, her husband, Don, a Dean at the local community college and Catherine, a rockstar academic. Gwen and Catherine after grad school choose very different lives. Catherine goes on to be this well known academic while Gwen marries Catherine's ex boyfriend and settles down in suburbia with their children. Years later, Catherine returns and both women acknowledge that they covet the other's life.
It's hard to say if I liked this play. While I thought the acting was quite good, I was not entirely happy with the entire premise of how the grass is greener plot line played out. Yes, I am sure that there are many stay at home moms who covet the no attachment life of friends who never married and vice versa but it really bothered me that a woman who supposedly is a successful academic would want to "steal" a friend's husband who is in essence a loser, even if he was her boyfriend back in grad school.
The best part of the play was Catherine's class with only two students, Gwen and Gwen's 21 year old babysitter, Avery who is making a reality show with her boyfriend.
Avery's take on feminism, horror movie genre and  insights into Gwen and Don's marriage and her opinion of Catherine's affair makes the play worth watching.
In the end, I thought Rapture, Blister, Burn was a tad too smart for it's own good.
Rapture, Blister, Burn is playing at the Playwrights Horizon until June 24, 2012. Tickets are available at Ticket Central.