As a single mom, my life is pretty hectic from working a crazy schedule, dealing with homework and arranging play dates, after school and weekend activities. While I would not trade one moment of my crazy, over-scheduled life, I do feel as though there hasn't been a lot of spontaneity.
I am thrilled to announce NYC Single Mom's partnership with Shout® and their Reprograming America for Fun Program that is encouraging families across American to step back from their daily routines and "Carpe Diem" as they say to have some fun and live life out loud!
Want to live life out loud, too? Then head to Facebook where Shout® has developed the "Reprogramming America for Fun" App. Just log on and the app will integrate your user name and profile photo into a short, personalized video all about seizing the moment – setting you free to start living out loud and having fun, without the worry of getting a little messy. Definitely take a moment to share your own ideas about how to seize the moment on the Shout® Facebook page so moms everywhere (including me!) can get some great ideas.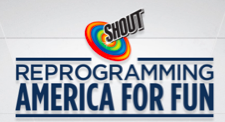 In the meantime, Olympian and Mom Jennie Finch has teamed up with Shout®. Jennie has provided me with a few tips to reprogram my (and your) daily routine and live life out loud:
Unplug from Electronics – Make a commitment to take at least 30 minutes each day to unplug the whole family from their favorite gadgets and spend some quality time together doing a fun and creative activity. Encourage the whole family to go outside and get dirty! Fresh air is invigorating and allows children to run freely without the worry of knocking over breakables or bumping into furniture. Shout® Wipes ensure you can clean up stains on the go so everyone can get the most out of life and still look their best. For us, I am planning to take a walk around our neighborhood after dinner just to have some quality time with my daughter.
Get Messy with Craft Projects – Arts and crafts are another fun way to change up your daily routine with interactive, hands-on fun. Create a craft box of construction paper, glue, paint and seasonal items. Dedicate each month to a new craft project. For example – make "turkey hands" or acorn decorations in November and special ornaments or holiday decorations in December. These homemade craft projects foster creativity, add decoration to the house and are a fun memento to keep for years to come. Paint, glitter and markers are no match for my favorite Shout® Trigger Triple Acting Formula product. It is sure to keep us from ruining our clothes, or should I say, my daughter's clothes.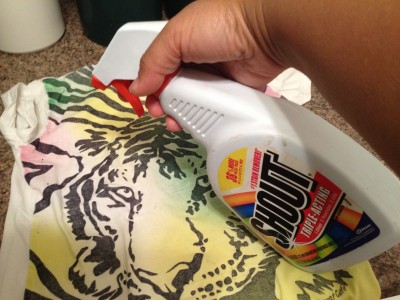 Stay tuned, as I aim to Live Life Out Loud as part of the Reprogramming American for Fun Program! To get started I will be giving away a Canon digital camera for you to record your family living out loud as well as the tools to create your very own scarecrow this season. There will be one winner.
How to win:
1.  Go to the Shout' Reprogramming America Facebook app (http://on.fb.me/PIsrLv) and click on the Get Reprogrammed button to create your own custom "Reprogramming America for Fun" video. Then leave a comment on this blog post answering the question, "What changes will you make to seize the moment (even if it means getting messy) and live life out loud?"
Official Rules
Visit www.shoutitout.com for more product details or check out the Shout® Facebook page at http://www.facebook.com/shoutlaundry for information, coupons and more and stay social on Twitter and http://twitter.com/#!/shout
Disclosure: This post is sponsored by Reprogram America for Fun! Shout®. Opinions are 100% my own.