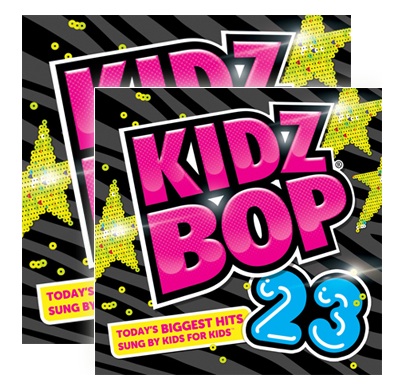 KIDZ BOP 23 DEBUTS AT #2 ON THE BILLBOARD TOP 200 CHART MORE THAN ONE MILLION KIDZ BOP ALBUMS SOLD IN 2012
KIDZ BOP 23, is the latest volume in the best-selling KIDZ BOP audio series for  kids ages 5-12 in the U.S., featuring today's most popular songs, sung by kids for kids. What I love about Kidz Bop is that offers up the year's most popular songs but with out the bad language and the inappropriate language. I think what appeals to my daughter is that it's sung by the kids. She hasn't stopped playing since we received our copy and whipped it out on her last playdate so she could have a dance party.
Here is KIDZ BOP 23 line up of songs. I am sure you will recognize a few of them.
1. "Good Time" Owl City & Carly Rae Jepsen 3:23
2. "We Are Never Ever Getting Back Together" Taylor Swift 3:12
3. "As Long As You Love Me" Justin Bieber ft. Big Sean 3:49
4. "Want U Back" Cher Lloyd 3:35
5. "Everybody Talks" Neon Trees 2:58
6. "Let's Go" Calvin Harris ft. Ne-Yo 3:45
7. "Locked Out of Heaven" Bruno Mars 3:33
8. "Wide Awake" Katy Perry 3:41
9. "Live While We're Young" One Direction 3:19
10. "Diamonds" Rihanna 3:45
11. "Too Close" Alex Clare 3:51
12. "Let Me Love You (Until You Learn to Love Yourself)" Ne-Yo 4:13
13. "Some Nights" Boyz in the Sink 3:45
14. "I Cry" Flo Rida 3:42
15. "Home" Phillip Phillips 3:14
16. "Gangnam Style" PSY 3:14
GIVEAWAY: 3 lucky NYC SINGLE MOM Readers will receive a copy of KIDZ BOP 23 ($13.98 SRP)
Disclosure: Level 1 and 8 compensation. Click here for nycsinglemom.com's disclosure.