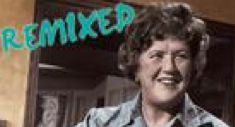 Happy 100th Birthday Julia Child. PBS keeping with the times has released "Keep on Cooking" mixed by John Boswell (melody sheep) who also did the Mister Rogers Remix Garden of Your Mind and Bob Ross Happy Little Clouds  video.
This is a brilliant way to keep this master culinary genius memory alive. For those who are too young, I grew up watching Julia Child on PBS with her distinctive voice and even attempted a few recipes over the years. Today's celebrity chefs ain't go nothing on her.
Enjoy the video, it's brilliant and reminds you what good cooking is all about. Enjoy a great glass of wine and Bon appetit!