Remember when James Corden, the host of the 2017 Grammy Awards was named to replace Craig Ferguson as the host of The Late Late Show on CBS and all of America asked a collective, who?
Well, my daughter and I were fans way before Car Pool Karaoke became must see viewing from his co-starring role on one our favorite Brit comedies, Gavin and Stacy.  Full disclosure, my daughter only saw a few choice episodes because it is a pretty racy show  you try to explaining the meaning of eff you sign that in this country is the sign for peace!)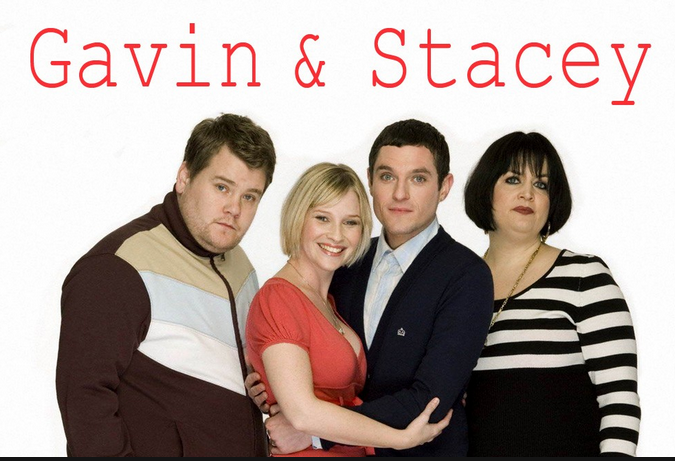 And if you are unfamiliar with Gavin and Stacy,  the show was about Gavin Shipman (Mathew Horne) who lived in  Essex, England, and Stacey West (Joanna Page) from Barry, Wales who have a long distance relationship.
James Corden and Ruth Jones actually were the creators and writers of the show playing Gavin and Stacey's best mates, Smithy and Nessa. And let me say that true comedy came from Smith and Nessa more than the lead characters. The show also include the funniest group of their prominent cast members include Alison Steadman and Larry Lamb, who play Gavin's parents, Pam and Mick, and Melanie Walters and Rob Brydon, who portray Stacey's mother, Gwen, and her uncle, Bryn. But I digress, let me say if you are looking for a bingeworthy british comedy, check out the show. I have highlighted  our favorite episodes.
Smithy and Rudi's American Boy Rap
Smithy's big entrance (World In Motion by New Order – England's 1990 World Cup song)
Doris' Salad
Doris from next door expresses strong opinions on making a salad for Baby Neil's christening in this funny clip from award winning BBC sitcom 'Gavin and Stacey'.  You might recognize a rather inappropriate English gesture in this clip but no matter, we love Doris.
So how have my teen daughter and I bonded with Mr. James Corden since his arrival from across the pond?
Let's be honest, as much as I love The Gilmore Girls and so wish that I have the same type of relationship that Lorelei and Rory Gilmour have,  I do not. I pretty much have the relationship that most parents have with their teens.
What parent hasn't enjoyed the conversation stylings of these teen responses?
How was your day? "Fine."
Anything interesting happen at school today? "Nope."
What was the most interesting fact you learned today? "Nothing"
Did any of your friends say something funny today? (note the attempt to not talk about school) "No."
I could go on but at this point, who doesn't throw their hands up in frustration!
On a recent trip to the doctor, my daughter asked me if I had seen the Drop the Mic rap battle  between Cara Delevingne & Dave Franco. I had not. Just in case you are not in the know, Cara Delevingne is a former model turned actress who starred in two of my daughter's favorite movies Paper Towns and Suicide Squad. And Dave Franco is James Franco's brother.

I have to admit it was awesome, I was totally impressed by Ms. Delevingne rap chops. We laughed so loud that the lady on the bus asked what we were watching. We spent a good 20 minutes discuss it afterwards.

Drop the Mic w/Cara Delevingne & Dave Franco
Of course, I had to return the favor by showing my daughter my favorite James Corden's Car Pool Karoake bits. This lead to my daughter looking up the music they were singing and discuss Madonna and Lady Gaga's musical careers.  Another 30 minutes of prolonged conversation.
First Lady Michelle Obama Carpool Karaoke
Madonna Carpool Karaoke
Lady Gaga Carpool Karaoke
Sometimes you need to meet your teen halfway  to get them talking about a topic they want to talk about. Lucky for me I try to keep up with the latest stars that appeal to teens. Oh don't worry I still ask about school and her homework. What kind of mom would I be if I was torturing on a daily basis? Seriously what would she talk about when she gets to college?
Thanks James Corden for  helping my teen daughter and I bond. I look forward to having future entertaining conversations with over Car Pool Karoake.
How do you relate to your teen?
Save
Save
Save
Save
Save
Save
Save
Save
Save
Save
Save
Save
Save