I will admit that when it comes to buying beauty products, I am pretty lax or should I say lazy. It's not for lack of interest, I am interested but it's more about lack of time to check out what's new. But something I never considered is something as simple as having a company like Glossybox send me a sample of luxury beauty products on a monthly basis.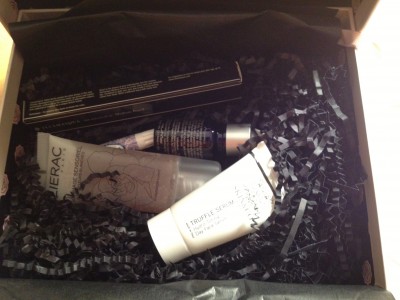 It's the best of both worlds, Glossybox does the curating and I get to try new products. Glossybox is the global leader in luxury beauty sampling and made its U.S. debut in early May 2012. Glossybox is available in 18 countries and is the largest beauty subscription service in the world.
How does it Work?
Upon registering, members answer a series of questions to create their beauty profile.
Based on this data, each customer receives a carefully curated box consisting of 5 beauty products specifically chosen to fit their needs for the monthly fee of $21.
 The samples are beautifully packaged in high-end gift boxes, creating a memorable experience each time Glossybox arrives in the mail.
This month I received 5 travel size products: Arganics by NuMe Argan Oil (a perfect compliment to any hair and skin regiment that really worked to add shine to my damaged hair – 4 0z full size is $59); Illamasqua Ltd lip and eye pencil (creamy eye pencil was easy to use and quite subtle – full size is $20); Lierac Gomma Sensoriel (a unique gel-oil texture scrub  with a mix of three white flower extracts and four precious botanical oils made my skin feel toned and exfoliated the dead winter skin which left my skin totally soft – full size is $30); Perfumies solid perfume stick (a solid perfume stick that is easy to use and light scent perfect to take along to the office or on a trip – full size is $7); Skin & Co Roma  Truffle Serum Hydro Toning Day Serum (this Italian serum infused Peptides, Tuber Melanosporum and Hyaluronic Acid gave my skin a boost and toned up my skin – full size is $36.)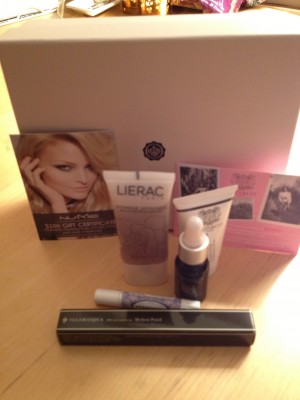 I think that regardless of price, if you can find a product that you love, price doesn't matter, the problem is most people and certainly I can't afford to try full size high end beauty products to find out I don't like them.  A Glossybox monthly subscription is a great way to try high end beauty products you may otherwise skip over because of the price or you aren't likely to discover them on your own. And $21 a month is relatively reasonable price and Glossybox offers several monthly subscription options (3, 6 and 12 month subscription.)
Disclosure: Level 1 and 8 compensation. Click here for NYC Single Mom's disclosure policy.