Last week, thanks to my work husband Mitch of gaynycdad.com, I went to the screening of Gifted starring Chris Evans, Academy Award winner Octavia Spencer and newcomer McKenna Grace. Needless to say it was pretty small crowd of photographers there so I was able to get a photo with Ms. Spencer (thanks to Mitch) and up close to the rest of the cast.  All in all not a bad night – screening plus stars.
 Octavia Spencer

Chris Evans, McKenna Grace and Octavia Spencer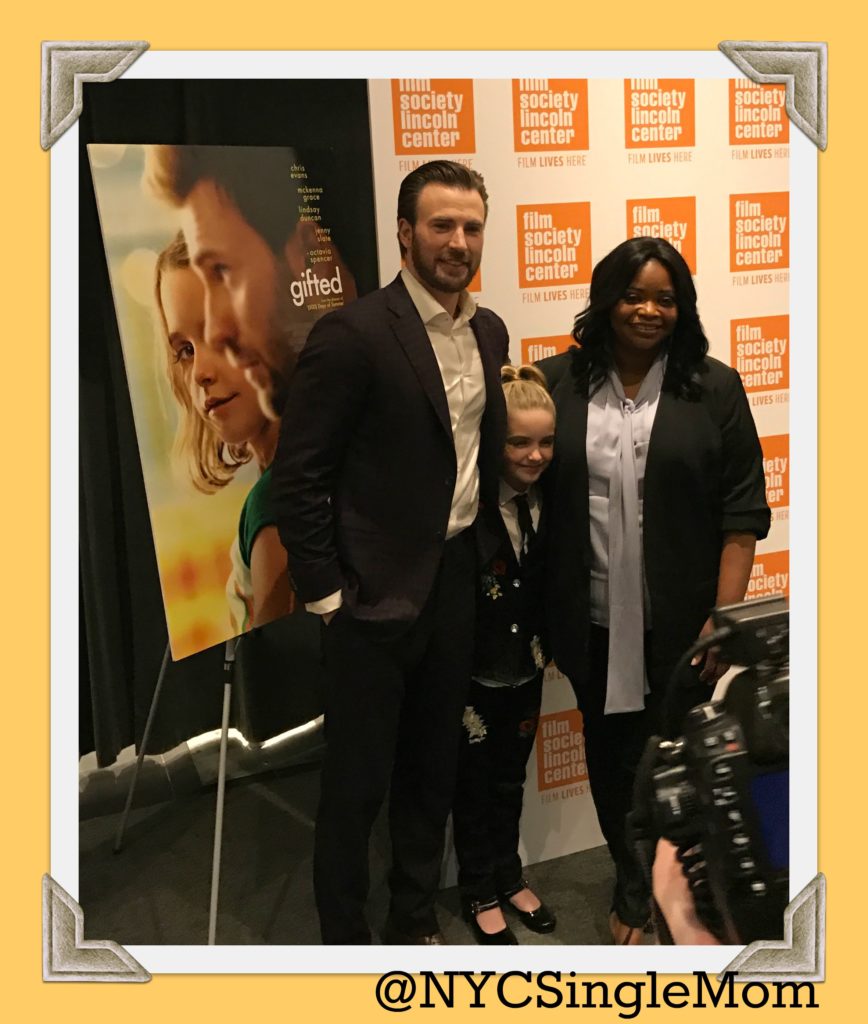 About Gifted
Frank Adler (Chris Evans) is a single man raising a child prodigy – his spirited young niece Mary (Mckenna Grace) – in a coastal town in Florida.  Frank's plans for a normal school life for Mary are foiled when the seven-year-old's mathematical abilities come to the attention of Frank's formidable mother Evelyn (Lindsay Duncan) whose plans for her granddaughter threaten to separate Frank and Mary.  Octavia Spencer plays Roberta, Frank and Mary's landlady and best friend.  Jenny Slate is Mary's teacher, Bonnie, a young woman whose concern for her student develops into a connection with her uncle as well.
Let me say that if you have the opportunity to see Gifted in the theaters, it will be worth your time. It is a movie that is funny, poignant and moving. I love Chris Evans but this is one of those movies that you get to see him act. And Octavia Spencer always brings her "A" Game. Mckenna Grace as Mary is just delightful.  I certainly hope it doesn't get lost amongst the blockbusters because it is small movie with a big cast and heart.
gifted OPENS IN SELECT THEATRES ON FRIDAY, APRIL 7TH
Save
Save
Save
Save
Save
Save
Save