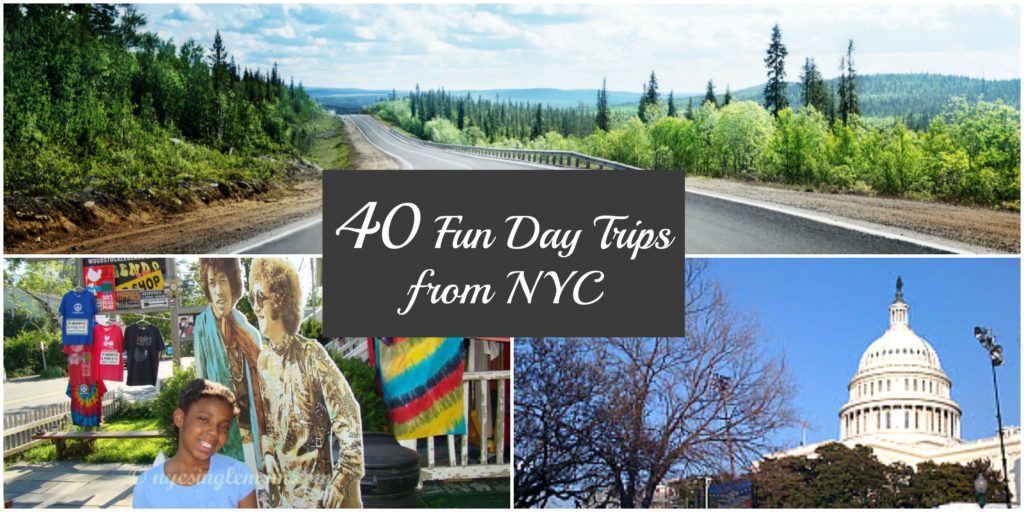 40 Day Trips from New York City – NYC is the center of my world, but even with everything this great city has to offer, it's nice sometimes to get away for the day. Day trips are perfect little getaways for many reasons. They're relatively inexpensive compared to travel involving hotels and airfare, they work well with my busy schedule, and they give my daughter and I the perfect amount of bonding time before she gets bored with hanging out with Mom. Luckily, there are a LOT of places to check out within a day trip's distance from me.
Below are some of the day trip destinations we've visited as well as some that we've got on our radar.
Woodstock, NY. We had a great time on our trip to Woodstock (yes, THAT Woodstock!) It's a quaint little town full of hippies and artsy sort of people just two hours from NYC. The town is full of art galleries, vegan restaurants, flea markets and unique shops that you won't find just anywhere. All year round it's a great place to find fun gifts you didn't know existed!
The Philadelphia Flower Show. This is another fun trip we've gone on. It's amazing the things they can do with flowers!
Washington, D.C. There are a million things to see in Washington DC, and each one of them is worth the day trip. You can sign up for an entire day's tour though, which ensures you don't miss any of the big stuff.  25 Must see Washington, DC attractions including Martin Luther King Memorial and Bureau of Engraving and Printing.
The Nautical Mile, Freeport, Long Island. A must-see for anyone who love the sea.
Boscobel House and Gardens, Garrison, NY. This gorgeous Federal-period house museum is also the home of the Hudson Valley Shakespeare Festival.
Bear Mountain State Park, Bear Mountain, NY. I can't guarantee you'll see a bear, but there is plenty of hiking, swimming, and even a small zoo to enjoy.
Dia: Beacon, Beacon, NY. This art gallery is located in a former Nabisco factory.
Yale Repertory Theatre, New Haven, CT. It's not Broadway but still pretty awesome.
Woodbury Commons Outlets, Central Valley NY. Outlet shopping at its finest. Wear comfortable shoes!
Storm King Art Center, New Windsor, NY. The Center features both large-scale outdoor sculptures as well as indoor ones, and they're ever-changing.
Warwick Valley Winery and Distillery, Warwick, NY. Who says you have to go to California to taste great wine?
Philadelphia Museum of Art, Philadelphia, PA. Even if you don't like art, the museum is the place of the famous steps from the movie Rocky. Grab your sneakers! And enjoy a classic banana split at the Franklin Fountain an old-fashioned ice cream store or play mini-golf at Franklin Square where the course has all the cities attractions.
Grounds for Sculpture, Hamilton, NJ. 42 acres of amazing sculptures and the famous Rat's Restaurant. What more could you ask for?
Asbury Park Boardwalk, NJ. Sun, sea, shopping, and the Stone Pony, the music venue famous for launching both Bruce Springsteen and Bon Jovi into their careers.
Sands Point Preserve, North Shore, Long Island, NY. Formerly the home of the Guggenheim family, this castle is definitely worth the trip.
Olana, Hudson, NY. The home designed and lived in by artist Frederick Church is full of stunning intricate detail made from various mediums. Church was also involved in the landscape design, which entails 250 acres of grounds and a lake shaped to mimic Inbocht Bay.
Fire Island, NY. Fire Island has everything you'd expect an island to have – a lighthouse, surfing, clamming, shopping, great seafood, and plenty of nightlife. Our favorite place is Ocean Beach.
South Mountain Recreation Complex, West Orange, NJ. This park has just about everything you'd ever want to do – including a zoo, mini golf, skating, and an adventure course – just 20 minutes outside of Manhattan.
Kykuit: The Rockefeller Estate, Sleepy Hollow, NY. Home to four generations of the Rockefeller family (yes, the ones Rockefeller Center is named after), you'll find amazing architecture, remarkable gardens, art, history, and spectacular scenery here.
Culinary Institute of America – Hyde Park, NY. Treat yourself to an amazing meal by visiting one of the five student-staffed restaurants on campus here. They've even got a brewery!
West Point Military Academy, Highland Falls, NY. One of the nation's most prestigious military academies, West Point offers tours. They're educational as well as interesting.
Skydive Jersey, Pittstown, NJ. Daredevils rejoice! You can jump from an airplane at lunchtime and be back in your NYC apartment in time for to watch primetime TV.
Monhonk Mountain House, New Paltz, NY. This resort offers hiking, skiing, and a relaxing spa among other things. Spend the day or the entire week. Your choice.
Six Flags Great Adventure & Safari, Jackson, NJ. Whether you're into rides, live entertainment, dining, or shopping, you'll find it all here. There is so much to do you might want to plan to spend more than a day.
Hersheypark, Hershey, PA. Life isn't complete unless you've been to this adventure park – a must-do for anyone who loves chocolate or amusement parks.
Planting Fields Arboretum State Historic Park, Oyster Bay, NY. Nature lovers will love the 400 acres of stunning natural beauty here. Guided and group tours are also available.
Sannino Vineyard, Peconic, NY. If you've always wanted to visit a vineyard, Sannino is the perfect destination for a day trip! They've got a tasting room and even offer educational classes.
Princeton University Art Museum, Princeton, NJ. When it comes to art museums, NY definitely takes the cake, but this one is pretty amazing too. Besides, after you leave, you can tell everyone you "studied art at Princeton".
Catskill Animal Sanctuary, Saugerties, NY. The Sanctuary rescues farmed animals and promotes veganism. You won't find a more compassionate group of animal lovers than you will here.
Brotherhood Winery, Washingtonville, NY. Brotherhood is America's oldest winery. They offer weekend tours and tastings and the facility hosts special events too, like murder mystery dinners.
Zoom Flume Waterpark, East Durham, NY. This waterpark nestled in the Catskill mountains is a popular getaway from the hustle and bustle of NYC. Note: The park closes kind of early, so plan for an early departure from home!
Kaaterskill Falls, Hunter, NY. If you haven't ever been to Kaaterskill Falls, you definitely need to visit the tallest 2-tier waterfall in NY. If you're not a hiker, best to check it out from the road, though. It's also considered one of the most dangerous hiking spots in the state.
Wildwoods, NJ. Wildwoods is a super popular tourist destination for a reason. You'll find all sorts of events, amusement parks, and lots of shopping and dining opportunities here!
Hunter Mountain Resort, Hunter, NY. In the winter, this ski resort in the Catskill mountains offers a plethora of snow fun, but in the summer season there is a lot to do too, including major music festivals, a zip line, hiking, and golf.
Windham Mountain Resort, Windham, NY. Another ski resort in the Catskills – you'll find activities in both the snow and sun all year round.
North and South Lake, Haines Falls, NY. While this is technically a state campground, you don't have to stay overnight to enjoy use of the lakes or the hiking trails. The fresh air up in the mountains is amazing!
Skydive the Ranch, Gardiner, NY. This skydiving ranch has programs for the experienced and first time divers.
Cape May, NJ. There is so much to do here that you could spend a year checking it out, but it's an awesome day trip just to hang out at the beach and work on your tan!
Tubing on the Esopus Creek, Phoenicia, NY. Whitewater tubing down a creek is a really fun way to spend a scorching summer day! Note: this is only offered for those 12 and over who are experienced swimmers.
Hoboken Historical Museum, Hoboken, NJ. Granted, Hoboken feels a lot like NY, but let's be honest. It's just not! Either way, the Hoboken Museum is a great visit!
This is really just the beginning of a very extensive list of day trips from NYC. Do you have any favorites you'd like to share?
Save
Save
Save
Save
Save
Save
Save