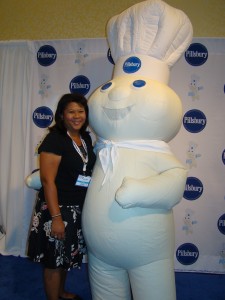 This past weekend, I attended my first BlogHer conference. For those non-bloggers, BlogHer is the biggest women's blog conference of the year. Over 2,400 hundred women bloggers from all over the country attend this conference. This year, it was held at the Hilton on 6th Avenue.
And where there are that many influential women there are sponsors.  Sponsors like P&G, Microsoft, Fischer Price, Yahoo Shine, Eucerin, Black & White, Pur, and so much more.
The Good about Blogher10:
Bringing Sex Out of the Closet with Twanna Hines, AV Flox, Genia Stevens, Kristen Chase (aka Mominatrix) and Tess Danesi. This was so interesting because all these women write about tada! sex. Kristen Chase (mother of four) aka mominatrix, great name. She talked a lot about the neighbor's reaction to finding out what she did. Genia Stevens, host of LGBT radio sisterstalk radio show. I may not be a lesbian but I am going to check out her show only because she was so refreshing, "out" and comfortable about her life. I loved that she is so open with her kids about her sexuality and truly is one of those parents that means it when she tells her boys they can come to her and ask her anything and I mean anything. She told a story about how her son said he was having "a problem" and needless to say they went to the emergency room to take care of STD he had contracted. Yes, I know, I don't think I could ever be that open.
One last thing about this session because as media proclaimed "mom" blogger (so hate that term), I knew that blogher included all type of bloggers and being at this session brought it too life. The age range of the attendees dropped by about 10 years and the tatooed ladies were evident. I loved it.
Dear Abby: Giving Advice in the blogosphere – Kelcey, Wendi and Marinka from the Mouthy Housewives and Becky from Mommy Wants Vodka. All I have to say is how much fun would it be to have fans because they women certainly do.  What I loved about all of them was that they were really funny, snarky and irreverent.
Pitch Me: How to work with brands. Very practical advice. I have to admit that I get pitched all the time now it's in my court to come up with a wish list of brands that don't pitch me and pitch them. This also made me more, how shall I say motivated to start again with my book
The Nate Berkus Party for the launch of his show – The party was held at the Modern just a short walk from the Hilton. To say that he was so nice, accmodating the hordes of women who wanted to get a picture with him is understatement. And to his pr and producers thanks for being so patient in talking to all of us. That's how it should be done.
Met the editor of babble at their party at the Merc Bar – this is one party I got invited to only because my friend gaynycdad.com told me about an couldn't go. I have been wanting to get a job, a writing gig alas nothing so now I have a contact. Little does he know…
MomSelect Swag Suite, The Getting Gorgeous event, Sweets in the City, NYC Mama's Madame Tussauds events. All amazing events and I thank all the hostess for inviting me. Posts to come on the events.
Ran into Veronica Webb at the Eucerin booth and she remembered me. Yeah!! That made me feel good.
Loved that I met people who were following me on twitter.
The Bad
Not enough time to meet everyone and go to all the sessions. There were people who I had been dying to meet like nap warden, the woman is responsible for my logo and site.
Feeling bad about not being invited to certain parties. Really AOL, Martha Unilever, Kodak, I live here but that's okay. I met Nate Berkus so  in the end, it was the one party I wanted to attend, so there.
The Ugly
I am not very photogenic. I need to lessons on how to pose for pictures.
All in all, a great experience. Will I go to San Diego for BlogHer 11? We shall see.