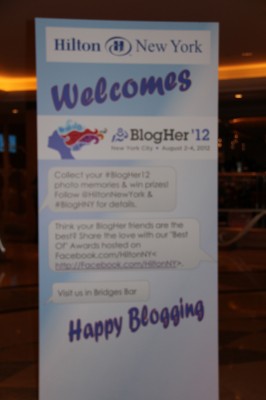 BlogHer12 wrapped on Saturday and what a whirlwind experience. This conference is so different than my experience in 2010 when it was held in New York City. Admittedly, I was overwhelmed in 2010 and I was overwhelmed at this conference but for different reasons. I  had only been blogging about a year and half and know concept of what the hell BlogHer was and certainly did not know that many people even New York area bloggers. For non-bloggers, going to BlogHer is ver much like high school. Lots of parties with the cool girls get the invites. This bothered me 2010 but this time, I just was if I get invited, yeah and if I don't oh well. It's a party with swag (maybe) and lots of people.
Why I loved BlogHer 12: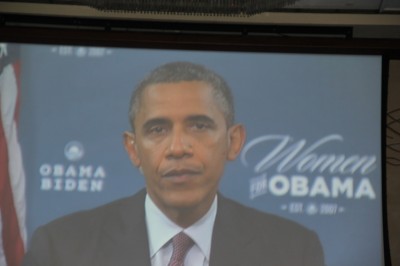 President Obama's Appearance (okay it was a live video feed)- Wow! Regardless of what you think of the President, the fact that he took time out of his day to speak at the most influential female blog conference is pretty impressive. Flip side,  Mr. President, stop before you start with the stump speech.
Advanced SEO for Bloggers Session (Christina Inge and Debbie Bookstaber) -  I went because I am delusional in thinking that I graduated to the advanced class but I learned a lot and was thankful that the speakers were smart enough to provide two takeaways for attendees. I just need to follow up.  I attended two other sessions but as you can see they weren't exactly memorable or did I walk away with any takeaways.
The BlogHer Parties - Yes, I liked the parties. What's not to like, fun people, good music and in the case of the last official BlogHerparty, CheeseburgHer featuring yes, McDonald's cheeseburgers.
Networking with Online friends – One of the joys of going to conferences is meeting with women you follow online. There were so many women that I connected with its hard to remember them all (Jennifer @MakobiScribe, Stacie @StacieinAtlanta and Kimberley Blaine @TheGoToMom  just to name a few)
Supporting Friends - I am lucky to live in New York and be able to support friends at their BlogHer12 events (Mom Trends Children's Place and Lands' End, Getting Gorgeous, Trumpeting Media R&R Suite, and The Big Toy Book Sweet Suite.) Congratulations to all of them since this was their first events at BlogHer and they were all amazing. So proud to know all of the women hosting the events. Stay tuned for individual posts on each event.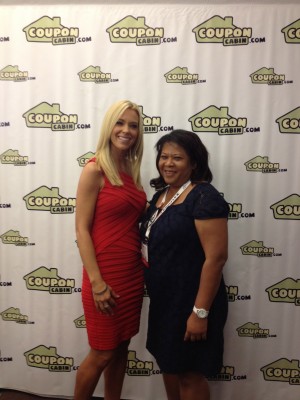 Expo Hall Companies- There were a gazillion companies in the Expo Hall and there were a few that stood out for me and not for the swag since there wasn't a lot of swag. A shout to Hillshire Farm  (I was really impressed with the flavor of their products and their make it your way bar); Samsung (I won a phone), National Honey Board (lots of recipes I can't wait to try); Neato Robotics, Stella and Dot, Windows, Coupon Cabin (bringing Kate Gosselin, genius idea) and many more.
Events -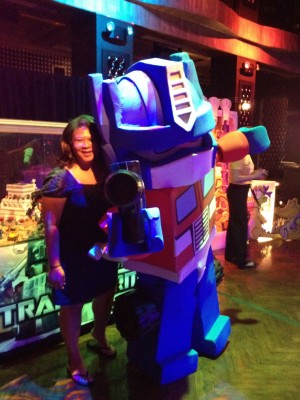 The Hasbro Party at the Edison Ballroom was a fun time  capped by My Little Pony Getting Married. There were also themed games with a preview of new Hasbro and Playskool toys.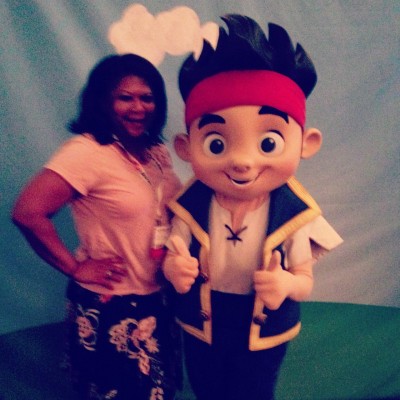 Disney Junior Breakfast – I had the pleasure of enjoying breakfast sponsored by Disney Junior and meeting Jake the Pirate along with previewing Doc McStuffins Halloween themed show along with previewing Disney Junior's newest show Sofia the First, the first girl princess.
The Big Toy Book Sweet Suite was an amazing, well-planned event totally aimed at bring brands and bloggers together. I  loved that the brand's representatives were engaging, attentive and most were very willing to work with bloggers.  Kudos to Corinne Ingrassia for heading a fantastic event.
Other events I attended included Mom Central First Drink on Us, McDonald's Listening Tour Breakfast, Zarbee's Cares Luncheon with Liz Gumbinner of Cool Mom Picks and Kristen Davis, and Fisher-Price Servin' Surprises, Logitech First Look and Southwest Superfly NYC. Whew that's a lot of events.
 Swag – Let's be honest who doesn't love Swag and I appreciate all items I received from the individual events. That said,  truth be told, BlogHer 2010 companies in the Expo Hall had better swag.
What I did not love about BlogHer12:
Overcrowded sessions: Every session I attended was packed to capacity with people sitting on the floors or standing.
Inattentive Brand People: There some booths in which the staff was just plain inattentive and could careless if they talked to you or not.
Lack of Willingness to Work with Bloggers: While I don't expect swag from any brand in the Expo hall, either be prepared to provide a review item or don't expect I will write about you. Also don't send junior account person to the event who doesn't make decisions on who can work with the brand.
Private Events - Granted I was invited to a lot of private events but certainly wasn't invited to a lot of other private events. I have to remind myself that this isn't high school and not to feel bad that I wasn't invited with the popular girls . Many of the invites were from New York area bloggers and I was happy to be invited to support them but wonder if I go to Chicago next year will I be the girl with her nose pressed up at the window.
Not Attending the Conference Sessions - This is entirely of my own doing because I was invited to off site events and chose to go to them versus attending afternoon sessions.
All in all, my BlogHer12 experience was far superior to my BlogHer10 experience where I hardly knew anyone. Will I go to Chicago? Maybe but not for lack of interest. Going to blog conferences is expensive which surprises me that there were close to 5,000 women who attended BlogHer 12 in New York City, certainly not a cheap city.
And finally, I will have to give props to my partner in crime Mitch @gaynycdad aka my work/blog husband. He is a good person to have along to attend conferences with and certainly made going to Blogher12 a better experience (and fun). If I was married, I don't think my husband could deal with that much estrogen.
Category: Events, Events/Entertainment/Dining, Single Mom Daily Life