Have you ever lost your smartphone along with all your contacts, appointments, and play dates? Mobile phones are so critical to our lives, seamlessly keeping us connected to work, family and friends. Even more crucial is the fact that our phones now serve as digital cameras and photo albums.
When I got my iPhone 4S, I made the mistake of not getting a cover. For weeks, I kept meaning to get a cover but didn't want to spend the money on any old cover, I wanted a cool funky cover. And then one day, as I was walking to pick up my daughter, I slowly took my phone out of my pocket , fumbled it and watched it slide across the sidewalk. I remember trying to catch it just like in the movies and almost caught it before it left my fingers  (where is a hidden camera when you want one?)  but alas it was not meant to be. I thought for a brief moment that  I was saved because it was intact and I did not see any glass around the phone but then I picked it up, the entire back of the phone was shattered.
I was crushed. It wasn't so much the carelessness of my dropping it was that I did not even have the basic cover it on it.  Sadly, I had no insurance and of course, I had to replace it, quite the costly error but that wasn't all that was lost, it was time it took to replace. As they say, money can't buy you time.
So we have all had cell phone mishaps (in fact, 1 in 4 people will lose, damage or have their phone stolen this year) and I'd love to hear your mobile mishap story.
Check out this Fact Sheet. The complete Asurion protection package, available through most wireless companies, empowers you with the apps and services that put you in the driver's seat – everything you need for complete peace of mind so you can enjoy using your smartphone. You'll rest easy knowing you're protected with Asurion, whether you need technology to secure your data privacy against growing mobile threats, need a device expert who's just a call or click away, or coverage to replace your phone as quickly as the next day.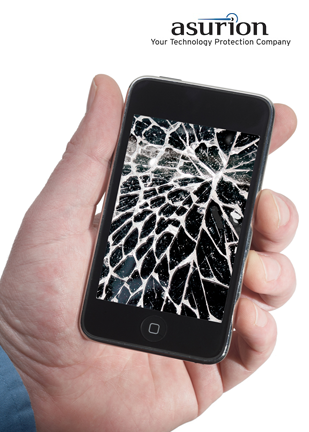 Do you have a mobile mishap story? One NYC Single Mom Reader will win a $40 Amazon GC by entering the RC form below. 
Disclosure: Level 8 compensation. Click here for nycsinglemom.com's disclosure policy.
Content and/or other value provided by our partner, Asurion.
Category: Giveaways, Product Reviews and Giveaways